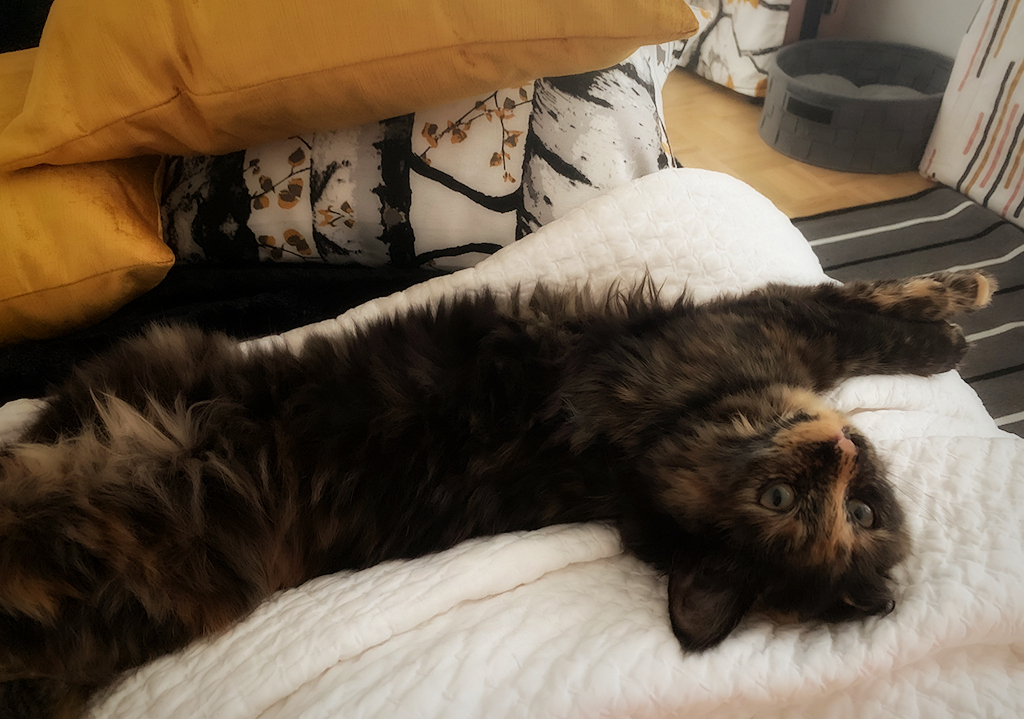 Hello Esmeralda! It's really good to have you here for another chat. Since we've made the introductions in a previous post, we can take it from there. So Esmeralda, what have you been up to this autumn?
– Hello everybody! It's indeed about time that you get an update on my latest escapades. I've had a nice autumn, well for the most part at least, but I've also been quite busy. You see, even though Mum does the intellectual work stuff, including typing on the computer, someone has to supervise everything. However, I make sure to take regular naps so that I don't overwork myself.
Hallå Esmeralda! Roligt att ha dig här igen för en kort pratstund. Eftersom du blev presenterad för läsarna i ett tidigare inlägg kan vi ta vid där vi slutade. Så Esmeralda, vad har du gjort i höst?
– Hej allihopa! Det är verkligen på tiden att ni får en uppdatering om mina senaste eskapader. Hösten har varit bra, åtminstone till största delen, men jag har också varit rätt så upptagen. Även om matte sköter det intellektuella arbetet, inklusive knattrandet på tangentbordet, måste ju någon övervaka allting. Men jag ser till att vila upp mig mellan varven så jag inte överanstränger mig.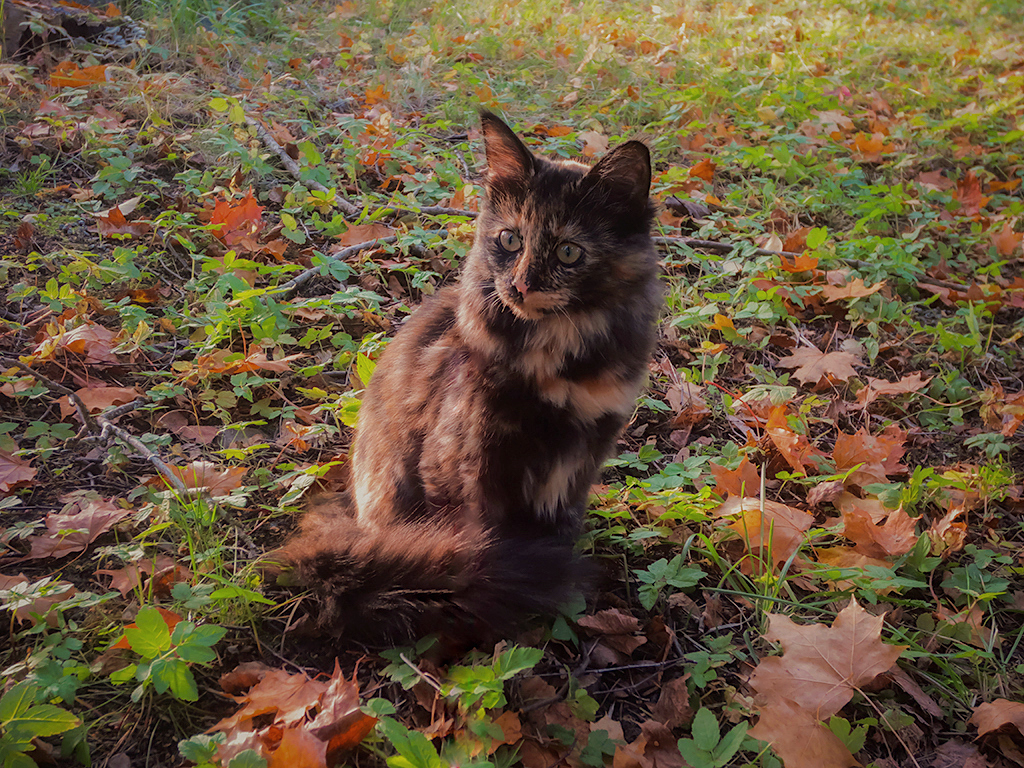 – In addition, I've had a lot to explore outside during our strolls in the neighbourhood, as suddenly there were crispy leaves on the ground. Very interesting!
– Dessutom har jag haft mycket att undersöka utomhus under våra strövtåg i grannskapet, eftersom det plötsligt låg en massa prasslande löv på marken. Väldigt intressant!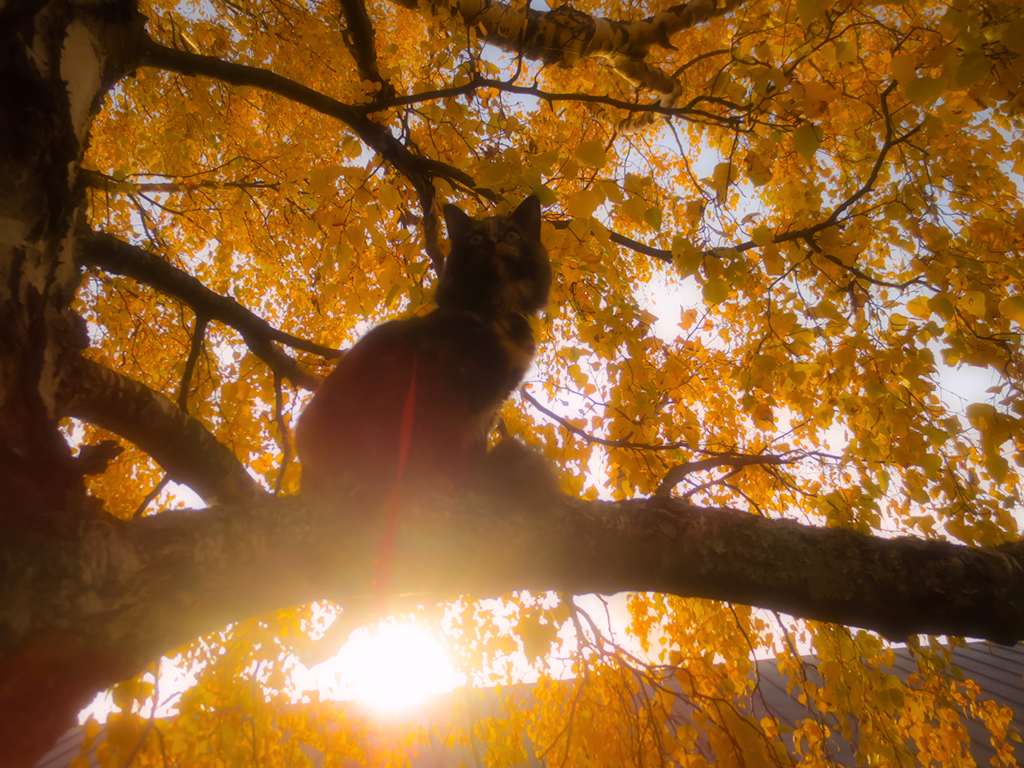 – People usually look and point at Mum curiously when they realise that she's walking a cat after I've gone for a climb in the trees. Well, we don't care if they think we're weirdos, as long as they keep their yapping dogs at a distance!
– Folk tittar och pekar ofta nyfiket på matte när de inser att det är en katt som hon har i koppel efter att jag har klättrat upp i något träd. Tja, vi bryr oss inte fastän de tycker att vi är konstiga, så länge som de håller sina gläfsande hundar på behörigt avstånd!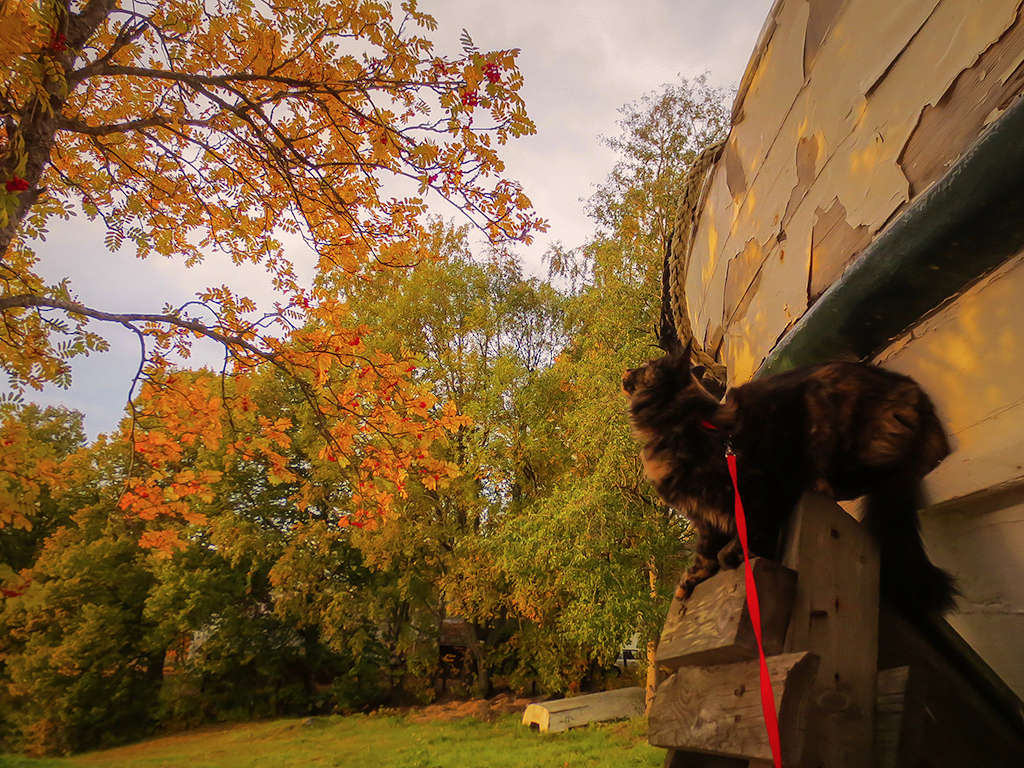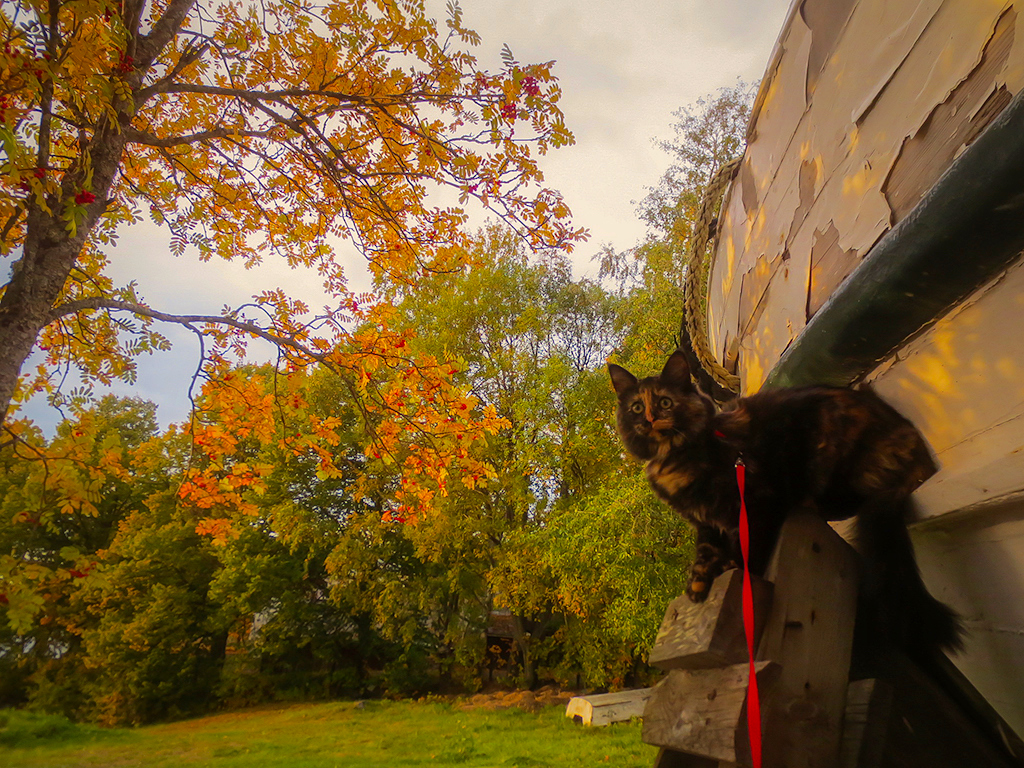 – Speaking of distance: In addition to the whirling leaves, some sagging clusters of rowanberries caught my eye, but I couldn't reach them. Ah well, I don't need any sour berries anyway!
– Apropå avstånd: Förutom de virvlande löven fick jag syn på några dignande klasar med rönnbär, men jag kunde inte nå dem. Äsch, jag vill ändå inte ha några sura bär!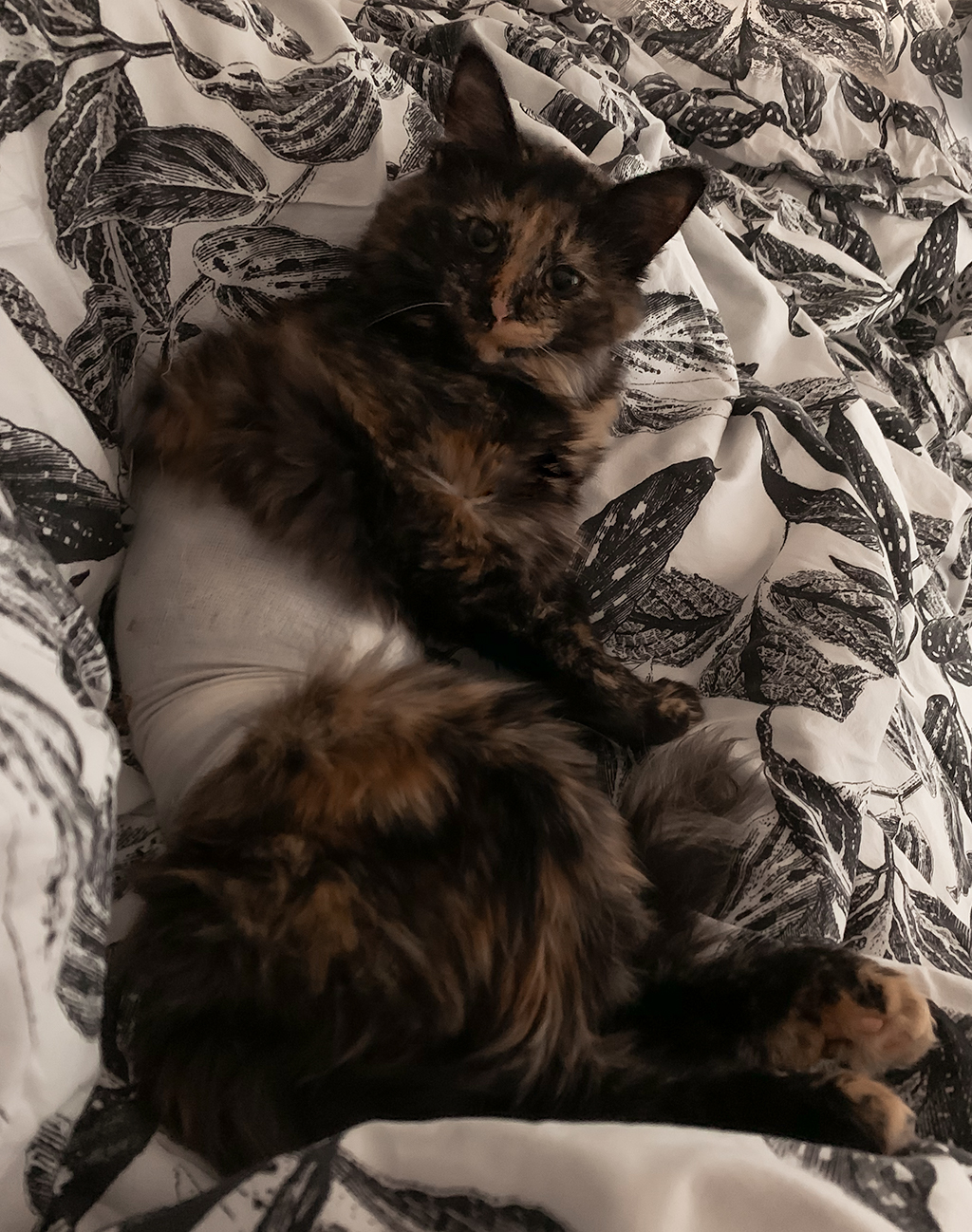 Well, I guess you're right, rowanberries as such are not that delicious. You mentioned that the autumn was nice for the most part, but what about the part that wasn't so nice?
– Ah yes, I had to undergo a routine surgery, in addition to getting microchipped, and I had to wear a bandage afterwards, which was really frustrating! I moped around the first days, but when I finally got rid of the 'straitjacket', I recovered quickly. Never again! At least Mum's pleased now because she thinks it's extremely important that my vaccinations, insurance and other paperwork are in order. She's a lawyer, after all.
Ja, det har du nog rätt i, rönnbär som sådana är ingen delikatess direkt. Du nämnde att hösten varit bra till största delen, så det har alltså funnits delar som var mindre bra? 
– Ah, just det, förutom att få ett mikrochip var jag också tvungen att genomgå en rutinoperation, och efteråt var jag tvungen att ha förband. Så frustrerande! Jag vankade slött omkring och tjurade de första dagarna, men när jag äntligen slapp "tvångströjan" tillfrisknade jag fortare än kvickt. Aldrig mer! Åtminstone är matte nöjd nu för hon tycker att det är jätteviktigt att vaccinationerna, försäkringen och andra papper är i sin ordning. Hon är ju jurist, trots allt.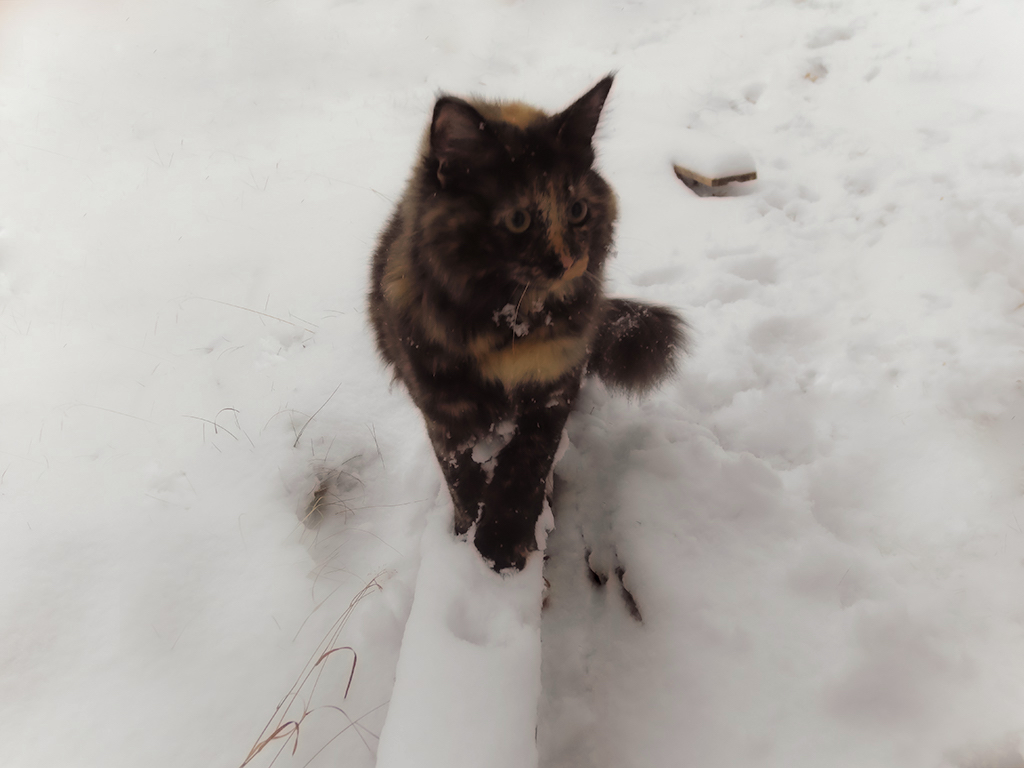 I'm glad that you're back on track after your surgery. Now, I've heard that you had a foretaste of winter with snow in Vaasa. How was your first experience of snow?
– To be honest, I can't see why Mum was so excited about that cold and cloggy slush. However, she says that I haven't experienced real winter yet, so I guess we'll have to wait and see if I'll change my mind.
Jag är glad du är fullt återställd efter operationen. Så över till nästa ämne, jag har hört att ni fick en försmak av vinter och snö i Vasa. Hur var din första snöupplevelse?
– Ärligt talat förstår jag inte varför matte var så upprymd över den där kalla och klibbiga sörjan. Men hon säger att jag inte har upplevt riktig vinter än, så jag antar att vi får vänta och se om jag ändrar åsikt i saken.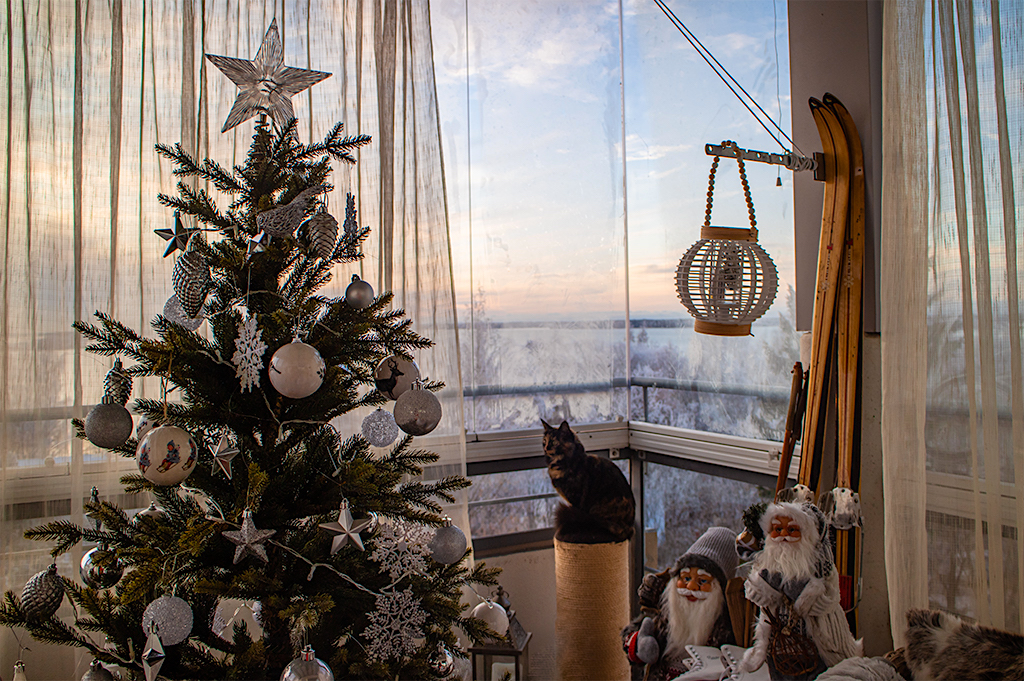 – It was far more exciting when Mum put up a tree and other funny things in our flat. I'm not really sure what Christmas is all about, but I like it so far!
– Det var betydligt mer spännande när matte riggade upp ett träd och ställde fram andra lustiga filurer i vår lya. Jag är inte helt säker på vad jul är för något slags fenomen, men hittills gillar jag det!
---
Well, let's hope you'll have a wonderful Christmas, some people actually think it's the best time of the year. Thank you so much for joining us Esmeralda and I wish you a happy holiday season!
– Thank you and the same to all my fans out there! Remember that you can also follow me on Instagram @esmeraldasescapades.
Ja, låt oss hoppas att du får uppleva en härlig jul, vissa anser att det rentav är den bästa tiden på året. Tusen tack för pratstunden Esmeralda och jag önskar dig en trevlig adventstid!
– Tack och detsamma till alla mina beundrare där ute! Kom ihåg att ni också kan följa mig på Instagram @esmeraldasescapades.