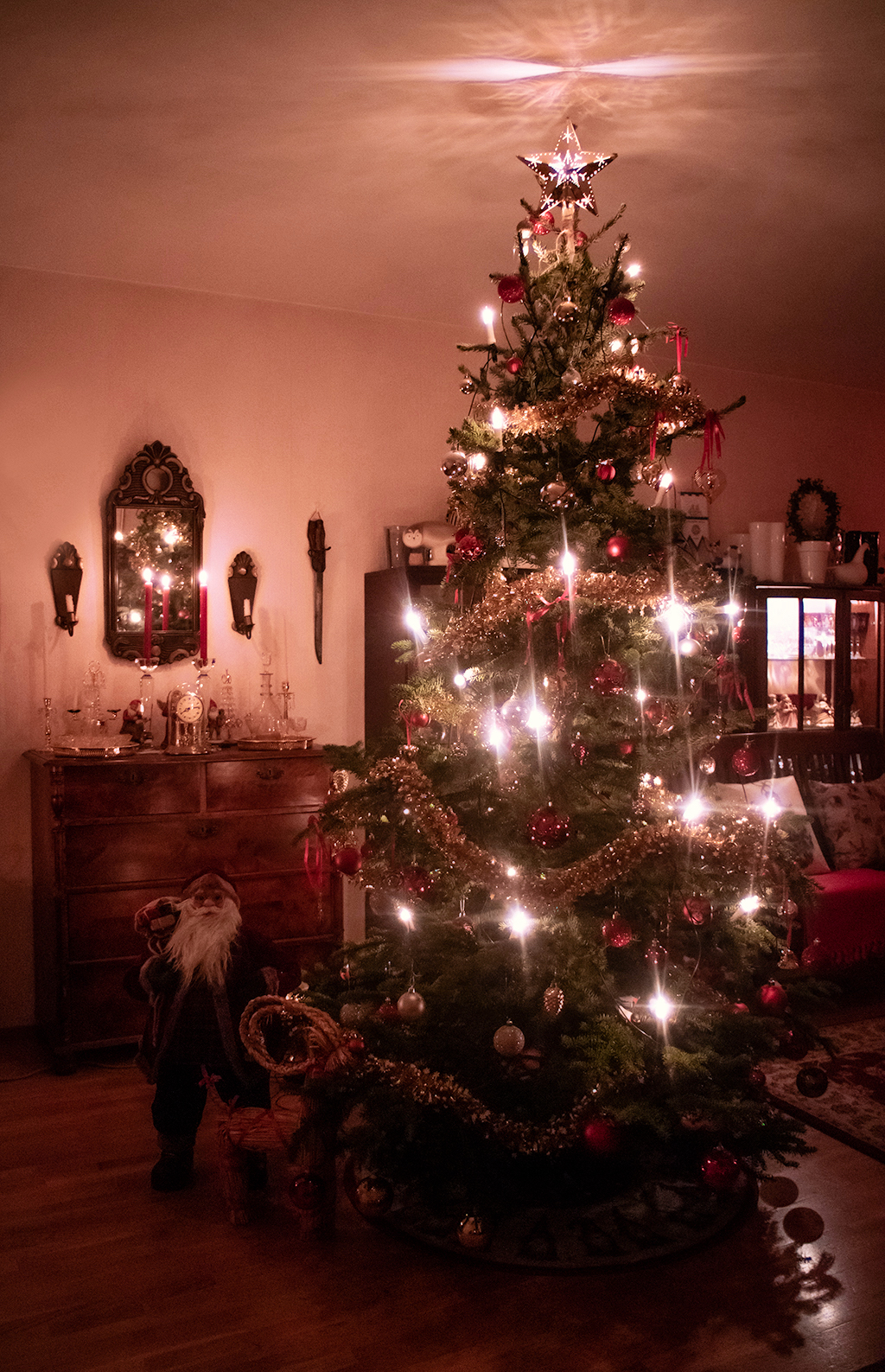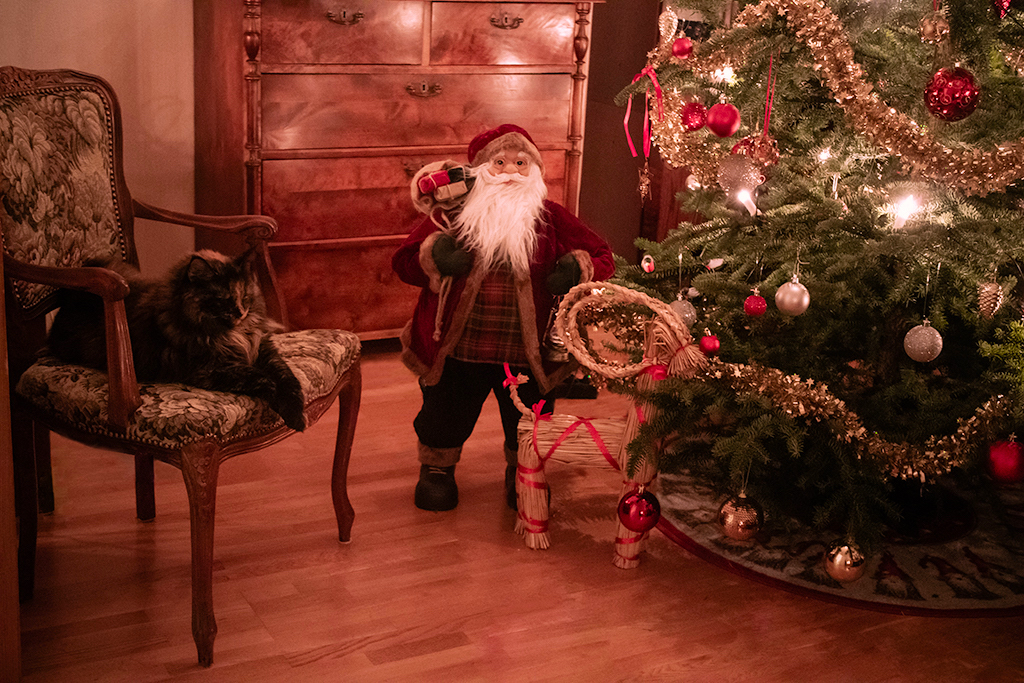 Christmas came this year as well, despite the extraordinary circumstances. Oh dear, what a struggle everything has turned into, and when you think that things cannot possible get worse, well then there is more bad news. Seriously, give me a break. Chaos at work, illness in my family (not COVID-19 and as opposed to COVID-19, there is no vaccine or cure available) and misery in general, this year has truly been one of the worst in my life.
Nevertheless, I spent Christmas in Jakobstad at my parents' flat as usual. Even though we did not celebrate that much, we still had a real Christmas tree that I decorated in the traditional style. At least something turned out great this crappy year. I prefer spruce trees with densely packed branches; in fact, it is absolutely necessary that the tree is of the sturdy kind because minimalistic decorating is not my style when it comes to Christmassy stuff. However, I did not use the most delicate baubles because Esmeralda is still young and at times she gets a bit overexcited about the Christmas tree, it is her absolute favourite Christmas decoration.
---
Julen kom även i år, trots de extraordinära omständigheterna. Jösses, vad motigheterna har hopat sig, och när man tror att det inte kan bli värre så kommer ännu fler dåliga nyheter. Seriöst, nu får det minsann räcka. Kaos på jobbet, sjukdom i familjen (inte covid-19 och i motsats till covid-19 finns det inget vaccin eller botemedel) och elände i allmänhet, detta år har verkligen varit ett av de värsta i mitt liv.
Hur som helst tillbringade jag julhelgen i Jakobstad hos föräldrarna som vanligt. Även om vi inte firade nämnvärt hade vi en riktig julgran som jag klädde i traditionell stil. Åtminstone blev någonting bra detta urusla år. Jag föredrar granar med tättsittande grenar; faktum är att det är absolut nödvändigt att granen är av den robustare sorten, eftersom minimalistiskt julpyntande inte är min stil. Dock lät jag bli att hänga upp de sköraste julgranskulorna eftersom Esmeralda fortfarande är ung och ibland blir hon en aning överexalterad över julgranen, det är hennes absoluta favoritjulpynt.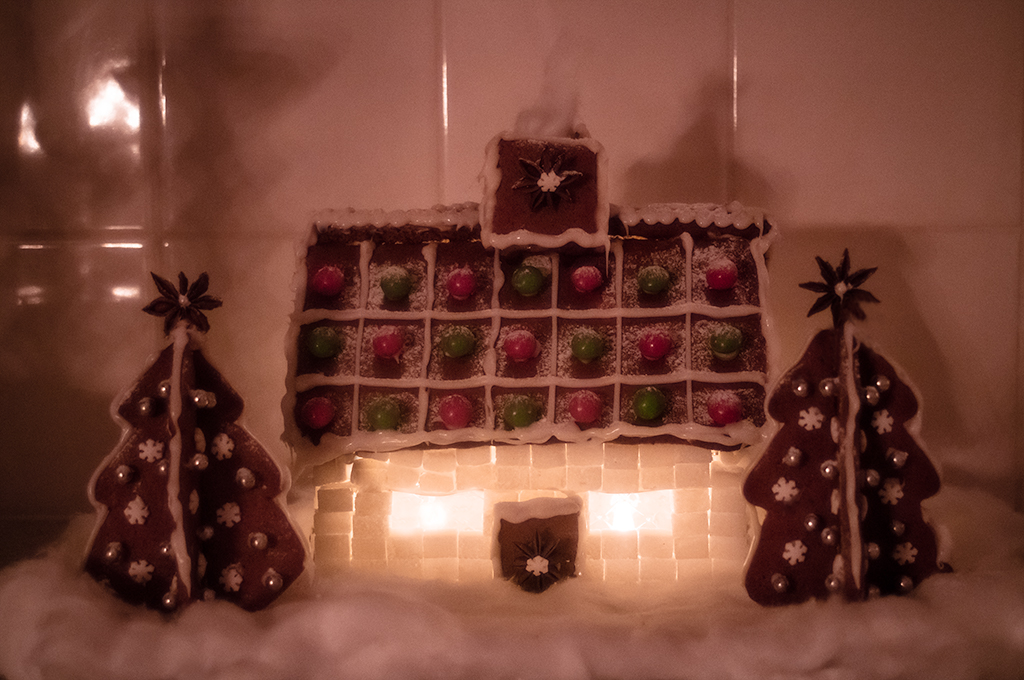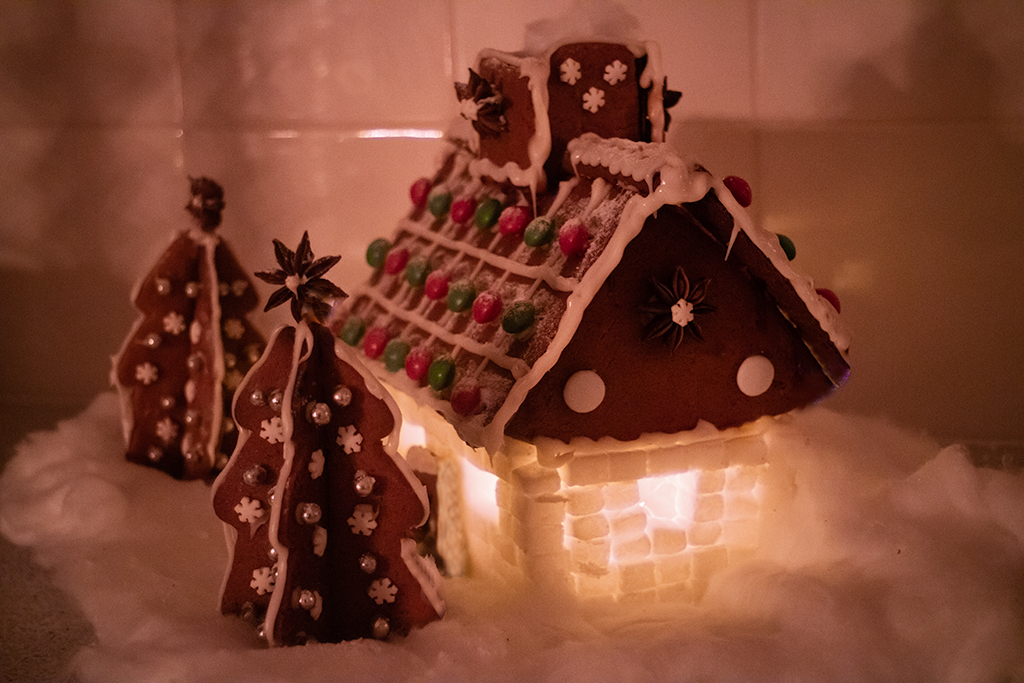 In order to think of something else and to engage in an activity that does not involve a screen, I decided to make house of homemade gingerbread dough and sugar cubes. I am quite happy with the result, especially as I did not use any template or even take measurements for this simple construction (I did not have time for any architectural grandiosities). After all, I am not a novice in the kitchen with regard to gingerbread and other goodies (although my piping skills could definitely be improved, I use the piping bag far too seldom).
---
För att tänka på annat och sysselsätta mig med något som inte inkluderar en skärm bestämde jag mig för att göra ett hus av hemmagjord pepparkaksdeg och sockerbitar. Jag är rätt så nöjd med resultatet, speciellt eftersom jag inte använde någon mall eller ens mätte med något annat än ögonmåttet och synvinkeln för att skapa denna enkla konstruktion (jag hade inte tid med några arkitektoniska storslagenheter). Jag är ju ingen nybörjare i köket i fråga om pepparkakor och andra godsaker (fast mina spritsfärdigheter skulle definitivt kunna förbättras, jag använder spritsen alltför sällan).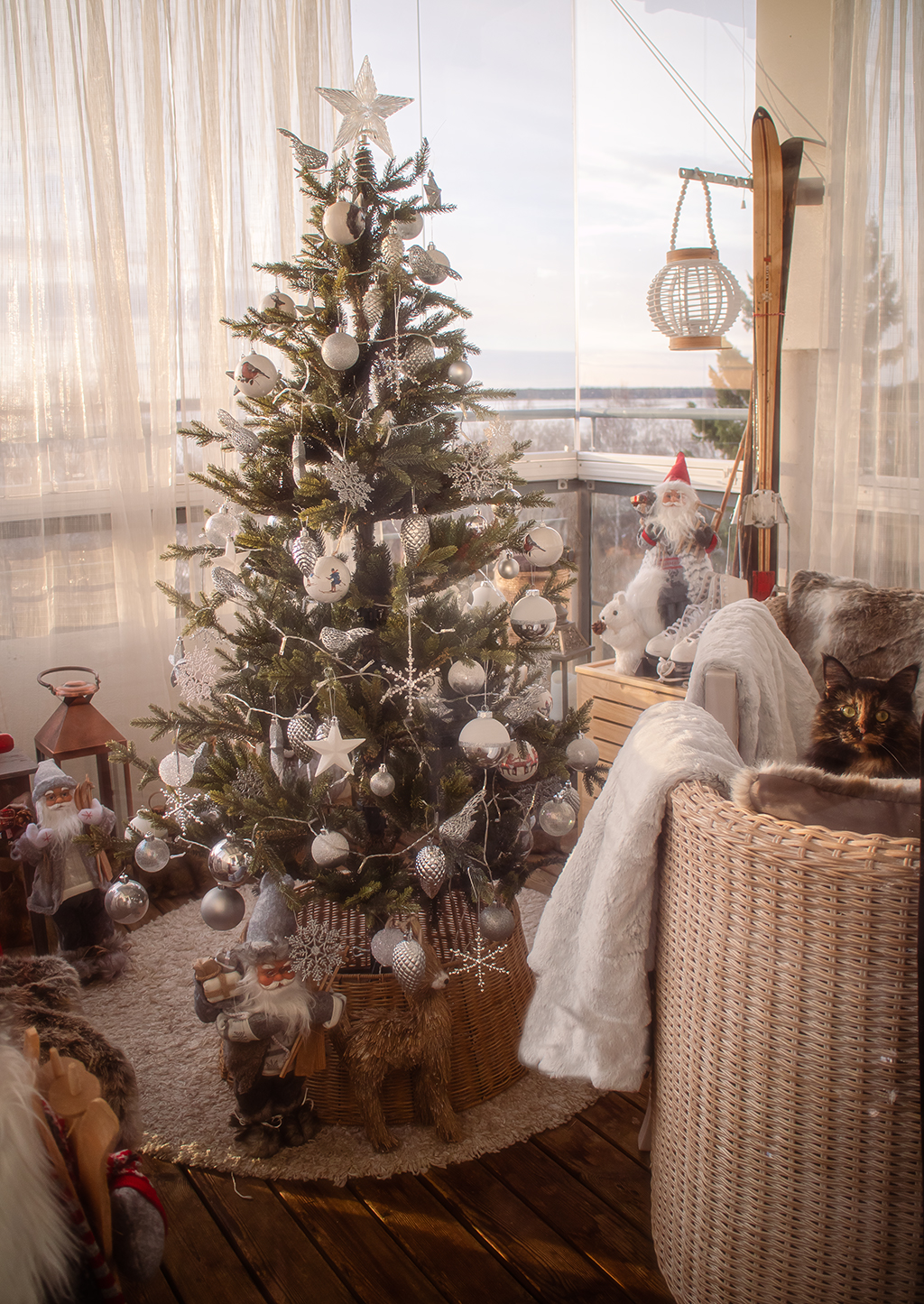 Now we are back in Vaasa and although Christmas is over, I am not going to re-decorate immediately. I think Esmeralda agrees with regard to the 'winter tree'; she does not seem to mind that the spruce tree is artificial. Moreover, I have some business stuff to take care of as well as exam tasks and course descriptions to translate since there were last-minute changes as usual. Speaking of changes, luckily, there will be some changes regarding my work next year when my employment contract with the university ends, so fingers crossed things will take a turn for the better.
Happy New Year!
---
Nu är vi tillbaka i Vasa och även om julen är över tänker jag inte plocka undan julpyntet genast. Jag tror Esmeralda håller med i fråga om "vinterträdet"; hon verkar inte misstycka fastän granen är konstgjord. För övrigt har jag företagsärenden att sköta samt tentamensuppgifter och kursbeskrivningar att översätta till följd av att ändringar gjorts i sista minuten som vanligt. Apropå förändringar, lyckligtvis kommer det att ske förändringar på jobbfronten nästa år när mitt arbetsavtal med universitetet upphör, så jag håller tummarna för att situationen blir bättre.
Gott nytt år!