Ladies and gentlemen and everyone in between, let me introduce you to Esmeralda the cat. She has agreed to be interviewed for the blog occasionally, so here is the first post in the series 'A Chat with the Cat': 
Mina damer och herrar och alla däremellan, får jag lov att presentera katten Esmeralda för er. Hon har gått med på att bli intervjuad för bloggen allt emellanåt, så här kommer det första inlägget i serien "A Chat with the Cat":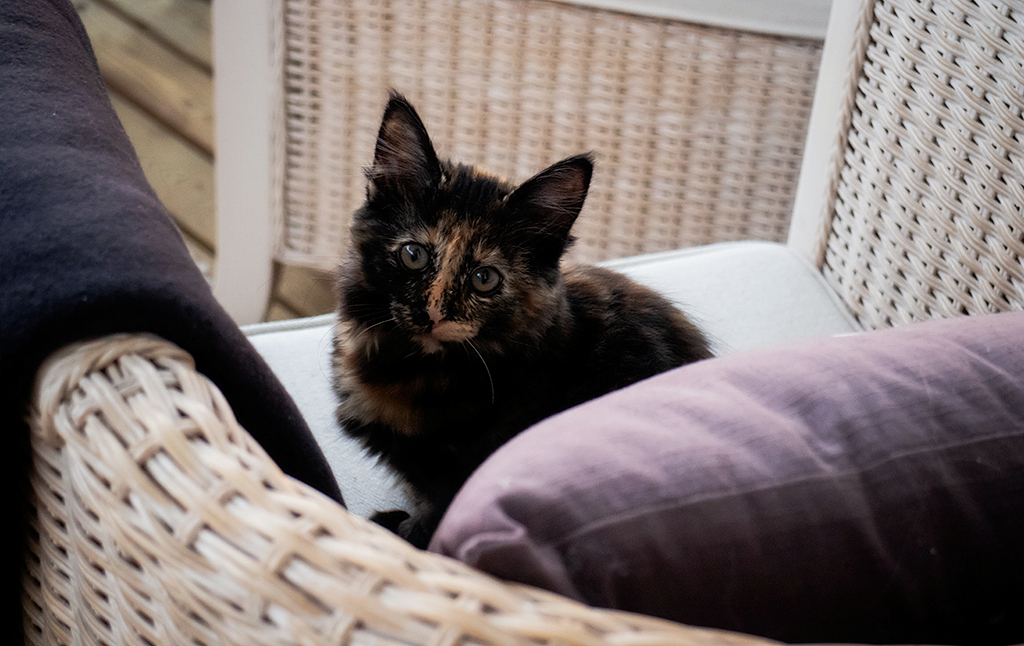 Hello and welcome Esmeralda. Since this is your first appearance here on the blog, could you please start by telling us about your origin?
Hello to you too, it's great to be here, I love to be the center of attention! My name is Esmeralda, well obviously, and I was born in late April this year in Purmo, a rural part of the Pedersöre municipality. When I was twelve weeks old I moved to Vaasa, the sunniest city of Finland, where I now live with my human Mum, who has got the most fascinating long hair. 
Hej och välkommen Esmeralda. Eftersom detta är första gången som du medverkar i bloggen, skulle du kunna börja med att berätta om ditt ursprung?
Hej allihopa, så roligt att vara här, jag älskar att stå i centrum! Mitt namn är Esmeralda, om någon mot förmodan missat det, och jag föddes i slutet av april i år ute på landsbygden i Purmo. När jag var tolv veckor gammal flyttade jag till Vasa, Finlands soligaste stad, där jag nu bor med min matte, som har oerhört fascinerande långt hår.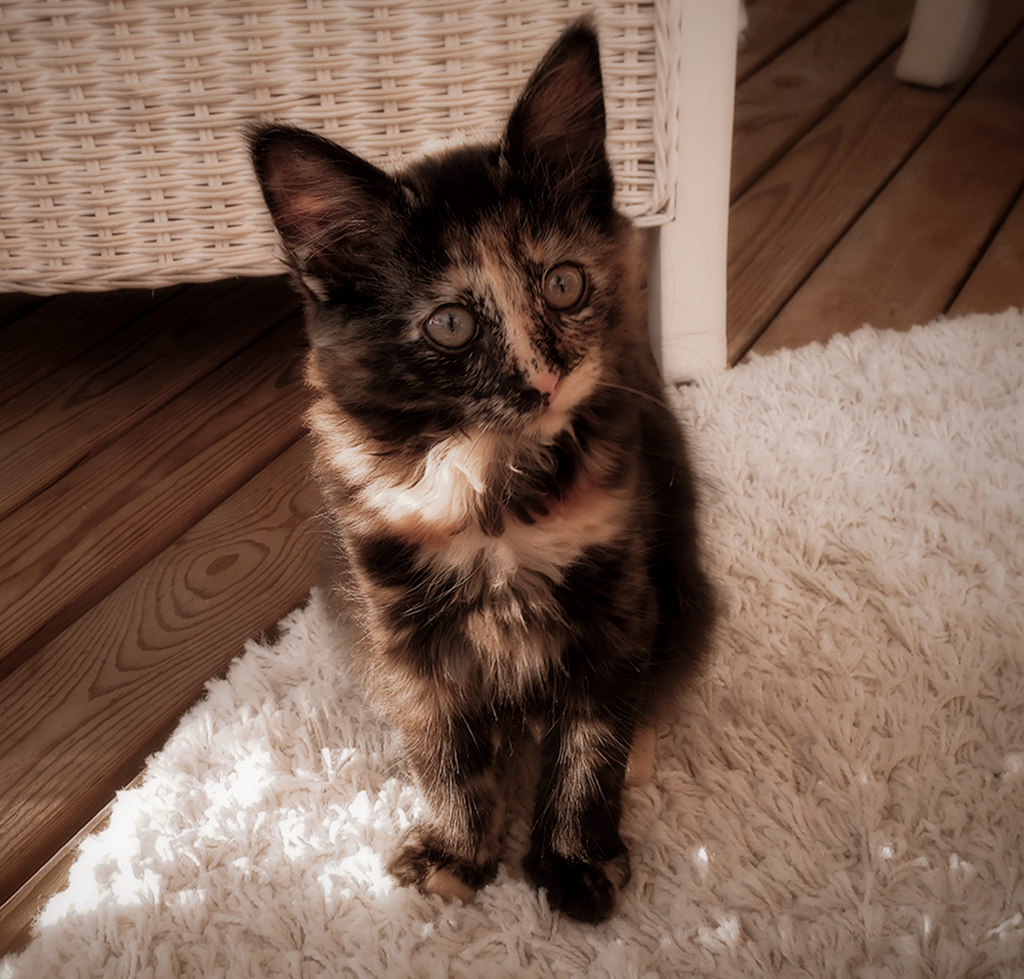 I myself am semi-longhaired and a mixed breed of Maine Coon, Norwegian Forest Cat, Bengal Cat and moggy (farm cat). People always comment my beautiful soft fur, and rightly so. Mum says you shouldn't judge a cat by its looks, but to be honest, she was truly delighted that fate wanted her to have the most exotic and pedigree-looking kitten of them all (we were six siblings in total). 
Själv är jag semilånghårig och en blandras av Maine Coon, norsk skogkatt, bengal och vanlig bondkatt. Folk kommenterar alltid min vackra mjuka päls – med all rätt. Matte säger att man inte ska döma katten efter håren, men ärligt talat var hon stormförtjust över att ödet ville att hon skulle få kattungen med det mest exotiska och renrasiga utseendet (vi var sex syskon totalt).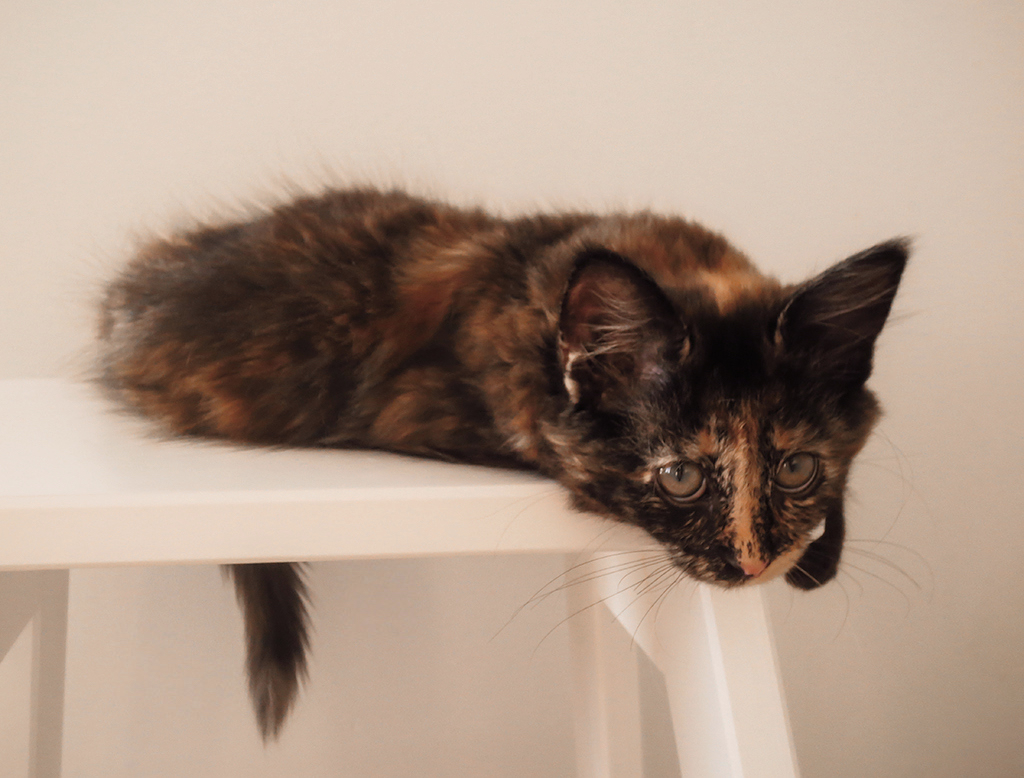 That's quite a fine mix indeed. What about the name 'Esmeralda'?
Well, many people associate the name with the female character in "The Hunchback of Notre-Dame", no matter if it's the Disney film or the novel by Victor Hugo, which Mum thinks she should read en français since she has actually visited the cathedral in question in Paris. Moreover, Mum loves the illustrated children's books by Elsa Beskow and in the stories about Aunt Green, Aunt Brown and Aunt Lavender, there's a cat called Esmeralda. Although personally, I prefer to say that my name refers to my stunning amber eyes with a ring of emerald green closest to the pupil, since Esmeralda comes from the Greek word 'smaragdos', emerald.
Det är verkligen en blandning som heter duga. Hur kommer det sig att du fick namnet "Esmeralda"?
Många förknippar namnet med den kvinnliga karaktären i "Ringaren i Notre-Dame", oavsett om det är Disneyfilmen eller romanen av Victor Hugo, vilken matte anser att hon borde läsa en français eftersom hon faktiskt har besökt katedralen i fråga i Paris. Vidare älskar matte de illustrerade barnböckerna av Elsa Beskow och i böckerna om tant Grön, tant Brun och tant Gredelin heter katten Esmeralda. Fast personligen föredrar jag att säga att mitt namn syftar på mina bedårande bärnstensfärgade ögon med en smaragdgrön ring närmast pupillen, eftersom Esmeralda kommer från det grekiska ordet 'smaragdos', varav en betydelse är smaragd.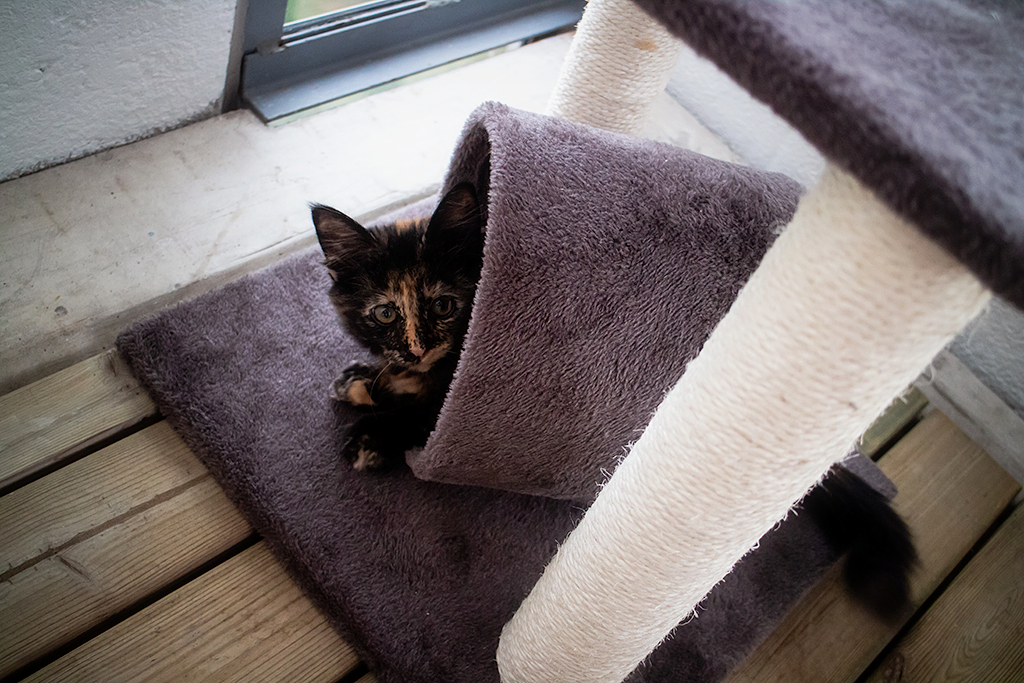 Very interesting. So now when we know your background, tell us about your everyday life in Vaasa. Have you got settled in yet?
Yes, I have. I've been satisfied with the 24/7 service so far. Everybody loves me and the next-door neighbours were so charmed by me that they gave Mum a scratching post that they didn't need anymore. So now I've got three cat trees (plus Mum's fake olive trees) and a bunch of toys in my playground. Mum says that I'm about to become more spoiled than she is, but I'm certainly not complaining, I deserve only the best! 
Mycket intressant. Så nu när vi vet din bakgrund, kan du berätta om din vardag i Vasa? Har du gjort dig hemmastadd än?
Jadå, det har jag. Hittills har dygnet-runt-servicen varit till belåtenhet. Alla älskar mig och de närmaste grannarna lyckades jag charma så pass att de gav matte ett klös- och klätterträd som de inte hade användning för längre. Så nu har jag tre klätterträd (plus mattes konstgjorda olivträd) och en massa leksaker i min lekpark. Matte säger att jag håller på att bli mer bortskämd än hon, men jag klagar minsann inte, jag förtjänar bara det bästa!
It doesn't matter if the stuff is artificial or real, I explore everything that looks interesting!
Det spelar ingen roll om grejerna är konstgjorda eller äkta, jag undersöker allt som ser intressant ut!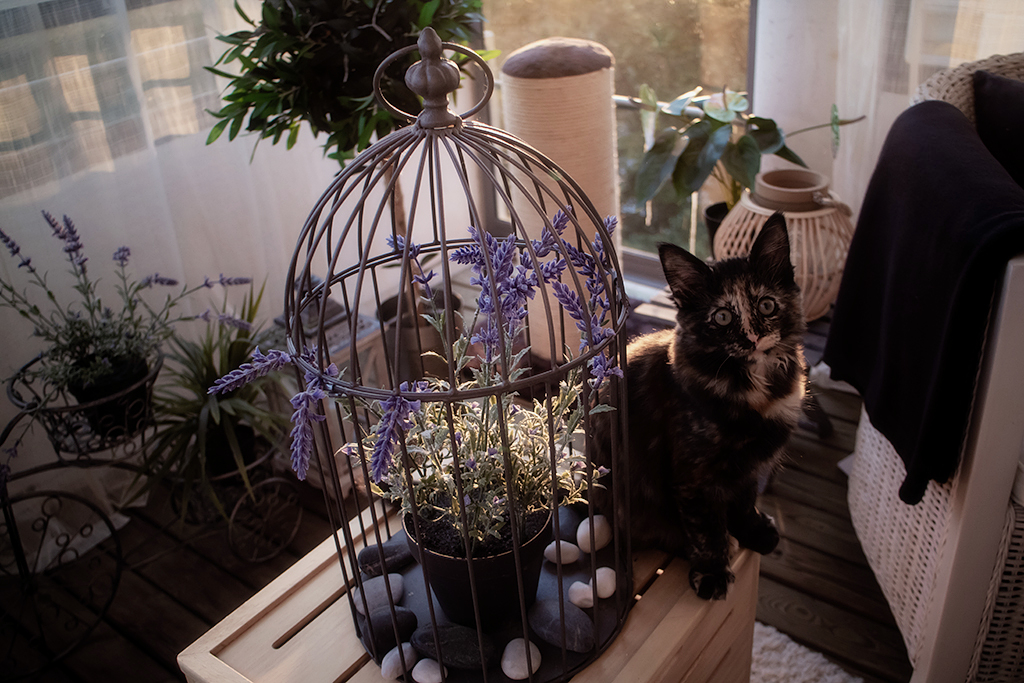 However, I always make sure to look sweet and innocent when Mum comes to check what I'm up to after hearing some suspicious sounds. She doesn't approve all of my whims, you see.
Men jag låtsas alltid vara gullig och oskyldig när matte kommer för att kolla vad jag sysslar med efter att hon hört suspekta ljud. Hon tillåter nämligen inte alla mina påhitt.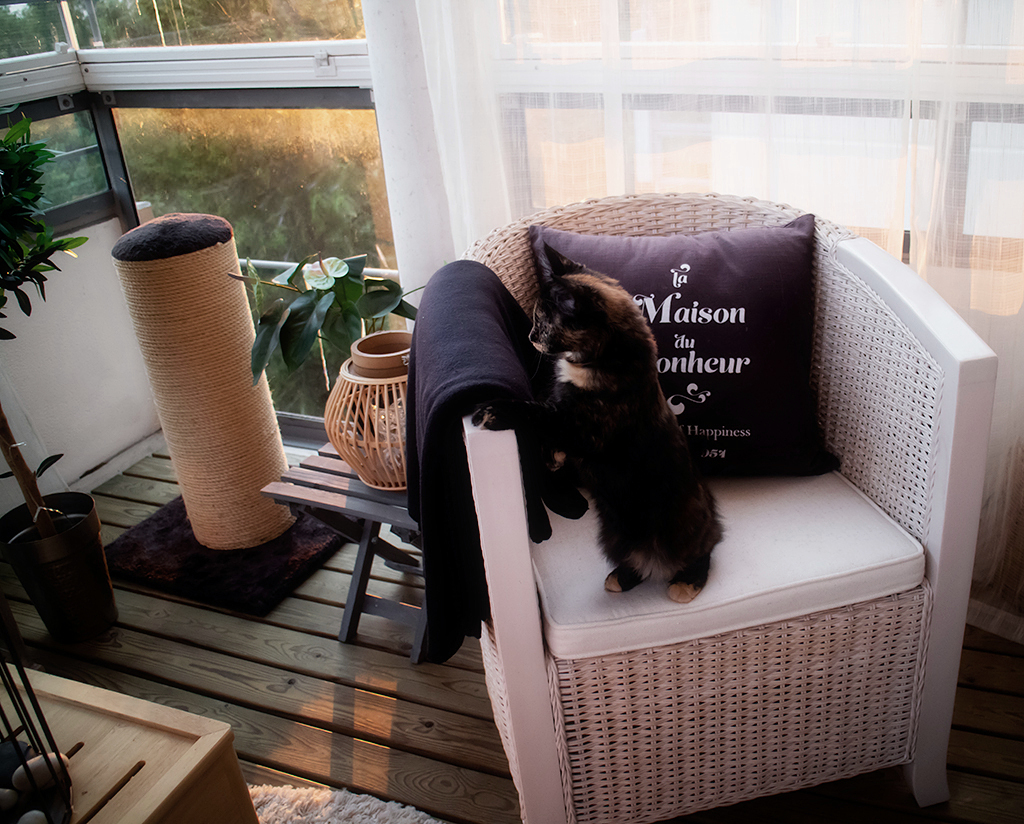 But then again, she doesn't really get angry with me; usually she thinks I'm such a funny little fellow, especially when I do my squirrel moves.
Fast hon blir aldrig arg på mig på allvar; oftast tycker hon att jag är en riktig lustigkurre, speciellt när jag praktiserar mina ekorraktiga färdigheter.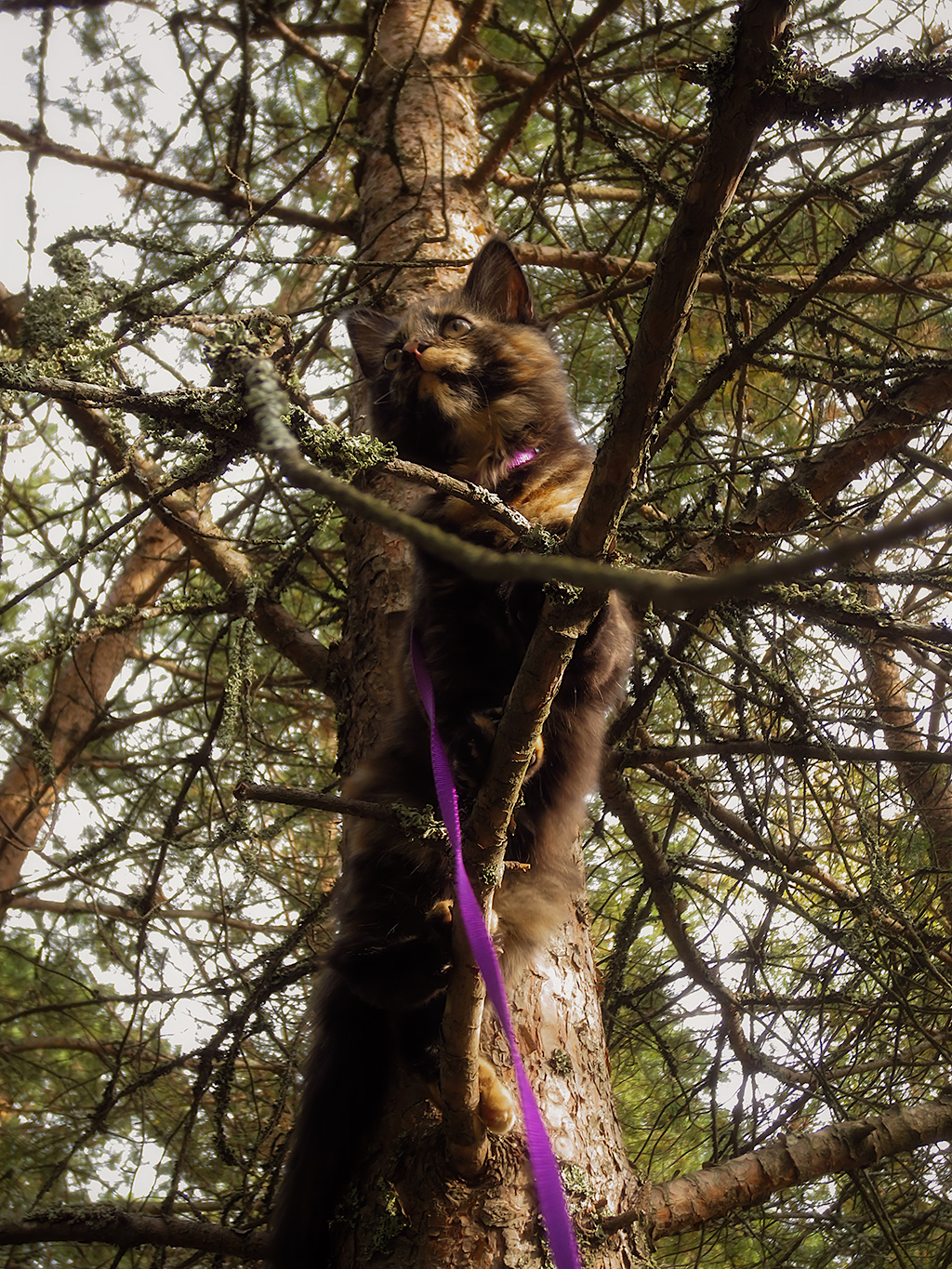 Speaking of squirrels, I've heard that you're keen on hunting rodents, is that right?
Oh yes, it's one of my favourite activities!
Apropå ekorrar, jag har hört att du gillar att jaga gnagare, stämmer det?
Oja, det är en av mina favoritaktiviteter!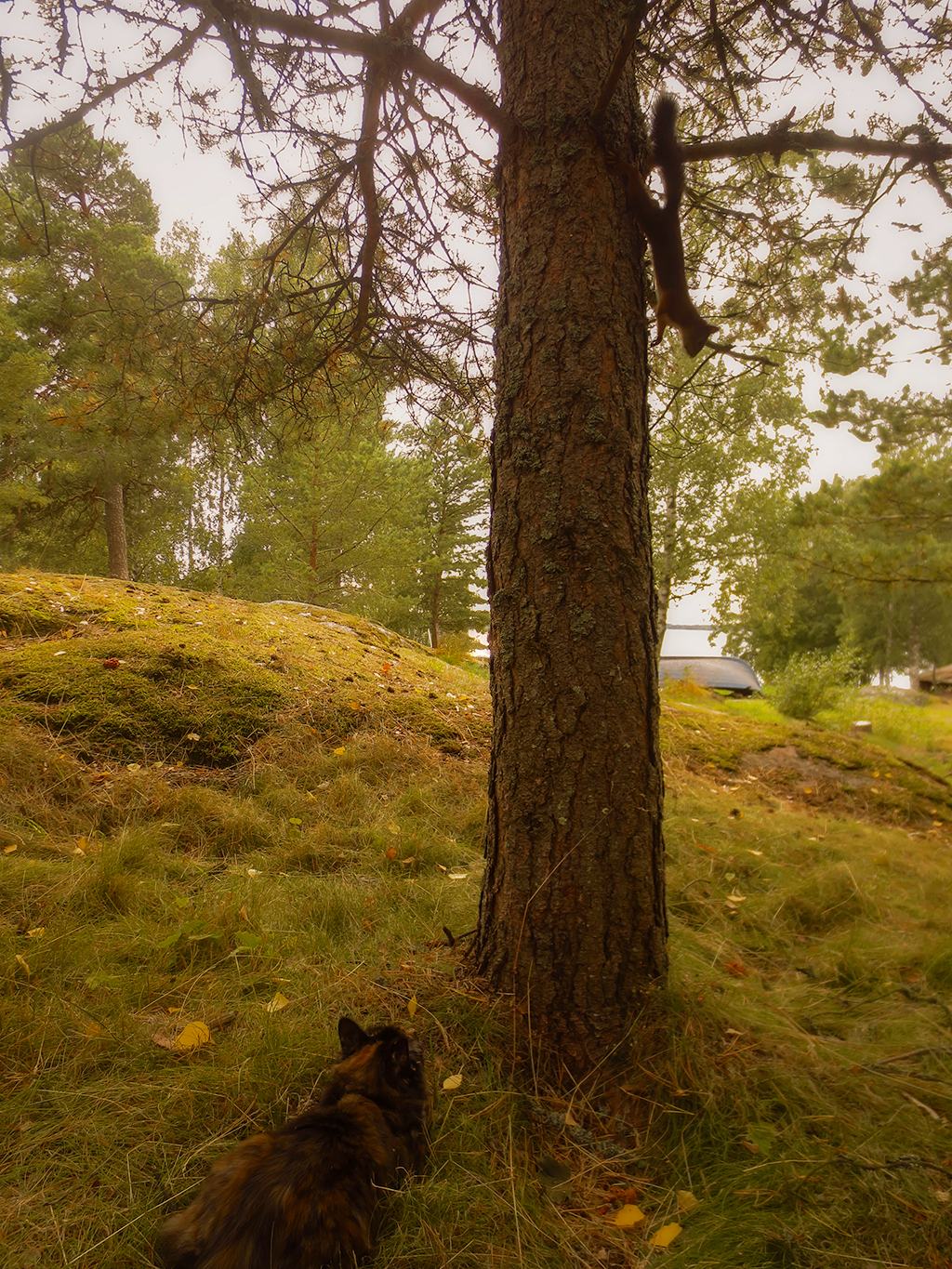 We played hide-and-seek the other day, although that scamp ran away before we had finished playing – nasty little bugger!
Vi lekte kurragömma häromdagen, fast den där rackaren smet iväg innan vi hade lekt klart – förgrymmade lilla kräk!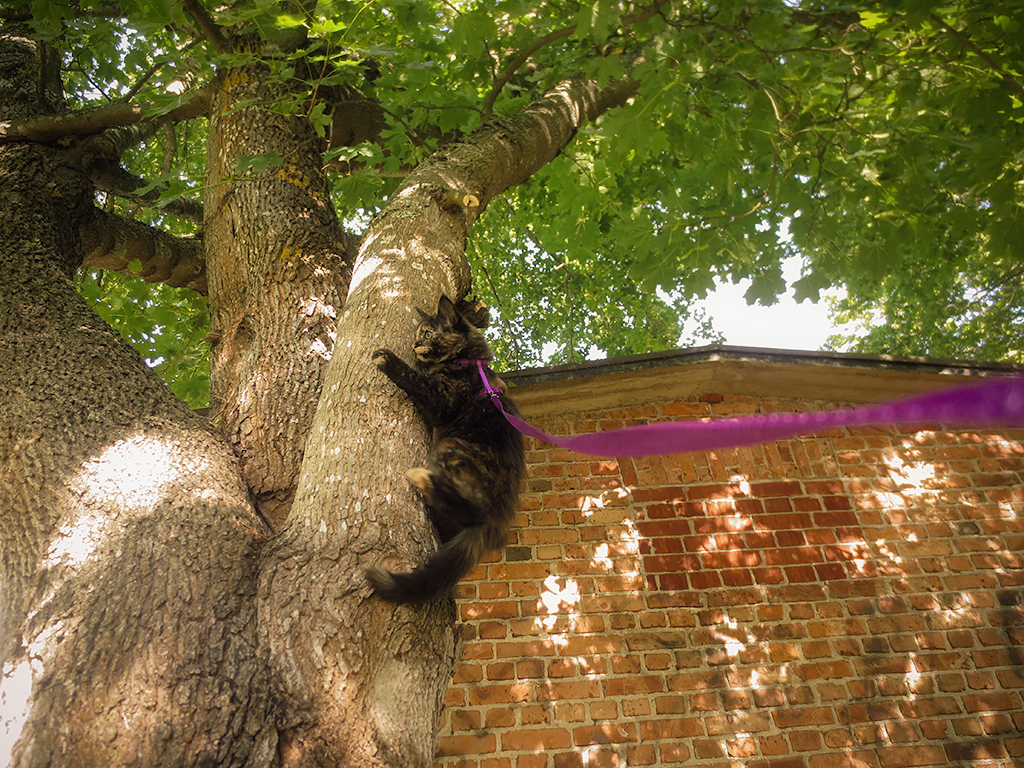 Nevertheless, I love tree climbing – but safety first, Mum insists that I wear a harness and a safety cord when climbing high.
Hur som helst, jag älskar att klättra i träd – men säkerheten kommer alltid först, matte insisterar på att jag ska ha sele och säkerhetslina när jag klättrar på höga höjder.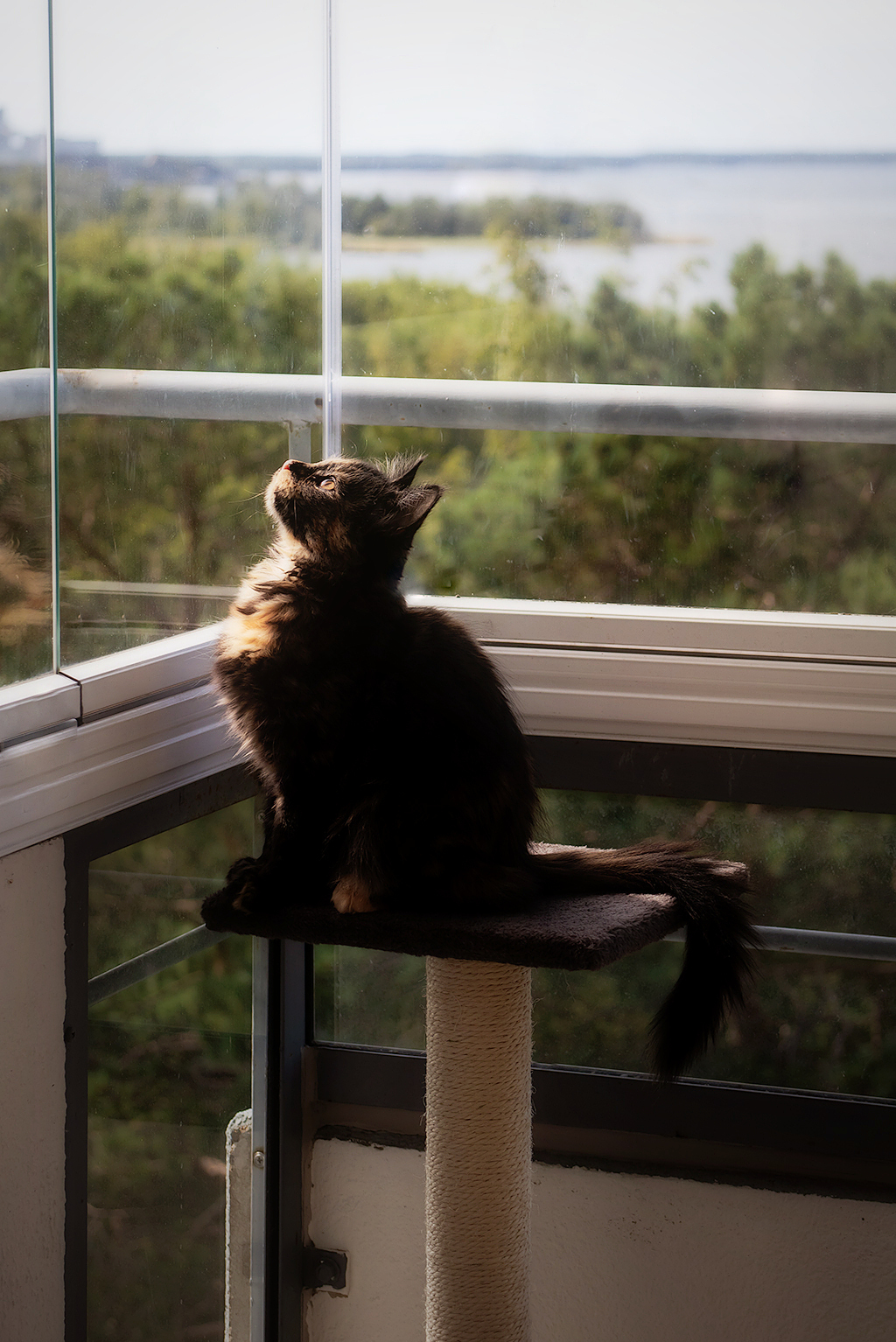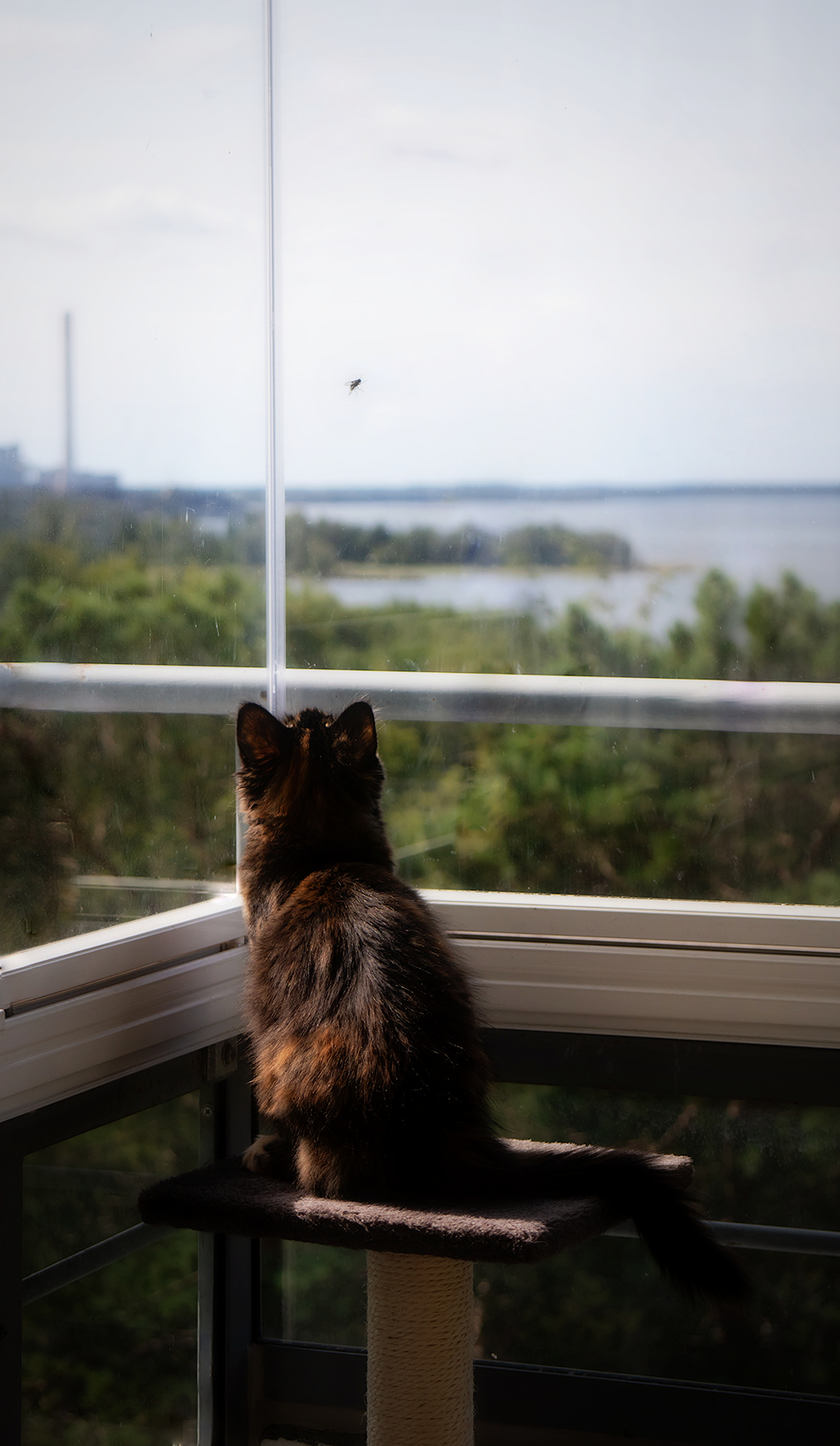 Clearly, you're not afraid of heights.
Absolutely not! I mean come on, we live high above the tree tops where we have a great view over the sea bay. To be honest though, I'm more interested in watching bugs and dragon-flies instead of sailing boats.
Du är helt klart inte höjdrädd.
Absolut inte! Vi bor ju högt ovanför trädtopparna där vi har en härlig utsikt över havssundet. Fast ärligt talat är jag mer intresserad av att iaktta insekter och sländor än segelbåtar.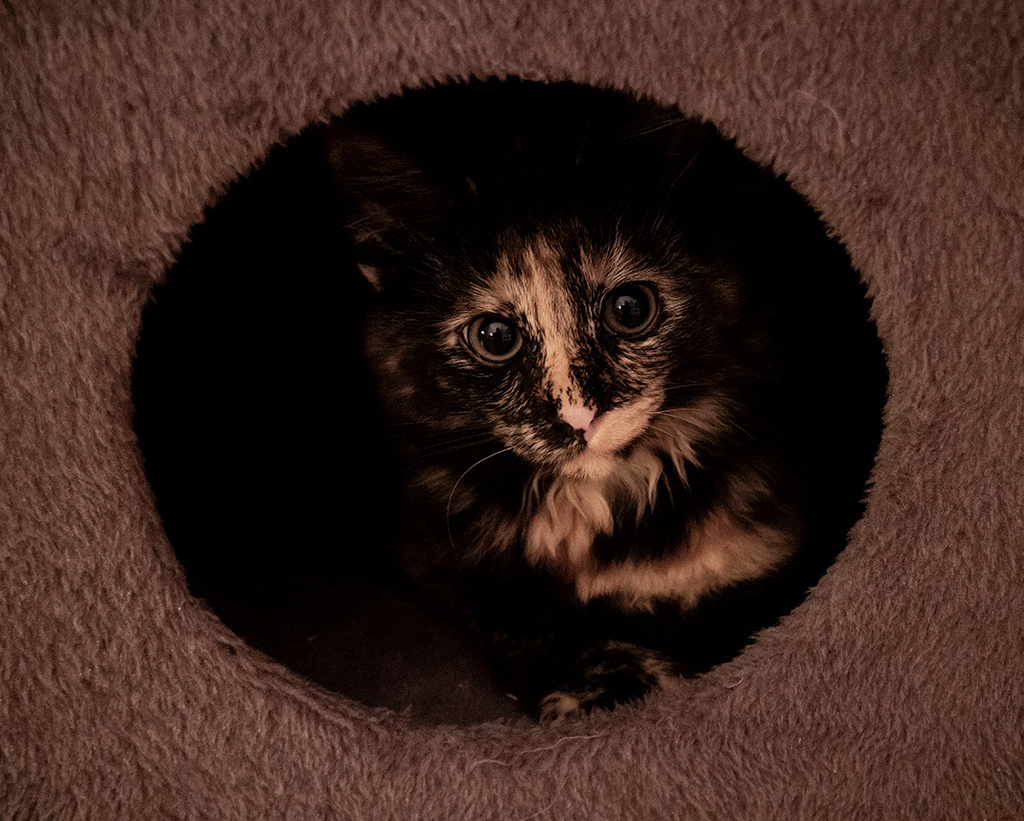 I see. You seem to have a quite busy day schedule, but as you're very young, I guess that you have more than enough energy to keep up with everything in life? 
Yes, Mum wishes that she'd got at least half as much energy as I do, then she'd finish her work in no time. I tried to give her a helping paw though, but she wasn't exactly happy with my contribution to her translation of academic high intellectual whatsoever stuff. I also participated in a Skype meeting with some people in Belgium, but then I got bored when they were only talking about designs and copyright, all in English and then Mum switched to Finnish, which I don't understand at all since she normally speaks Swedish with me. Consequently, I'll let Mum do all the business henceforth.
Well, I guess she must work in order to earn a living and support you.
I never discuss money, because I'm a lady (quoting Marie in Aristocats)!
---
Jag förstår. Du verkar ha ett välfyllt dagsschema, men eftersom du är mycket ung antar jag att du har energi så det räcker och blir över till att orka med allt i livet?
Ja, matte önskar att hon hade ens hälften så mycket energi som jag, då skulle hon bli klar med arbetsuppgifterna på nolltid. Jag försökte dock ge henne en hjälpande tass, men hon blev inte direkt nöjd med min insats i hennes översättning av något akademiskt högintellektuellt stoff. Jag deltog också i ett Skype-möte med några typer i Belgien, men jag blev uttråkad då de bara diskuterade mönsterskydd och upphovsrätt, allt på engelska och sedan bytte matte till finska, som jag inte förstår alls eftersom hon normalt talar svenska med mig. Alltså låter jag matte sköta affärerna i fortsättningen.
Tja, jag antar att hon måste jobba för att få inkomster till att försörja dig. 
Jag diskuterar aldrig pengar eftersom jag är en förnäm dam (citerar Marie i Aristocats)!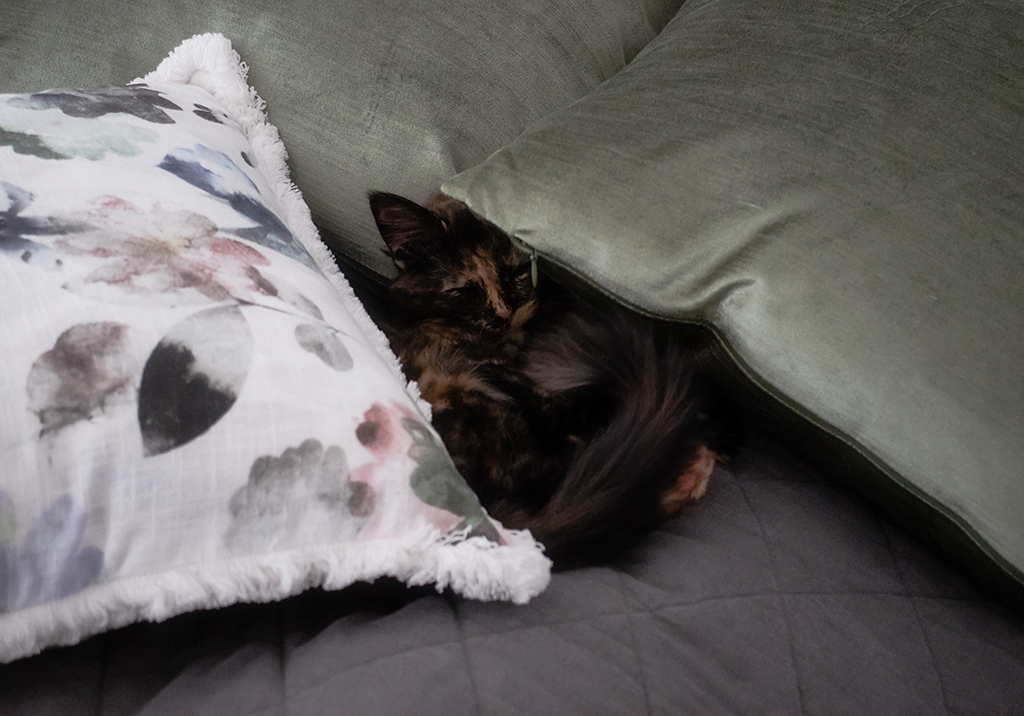 Of course. Well, I've taken up much of your time already and you probably need your beauty sleep. Do you sleep well by the way?
Oh yes, I'm a cat you know, I love taking naps! I can sleep basically everywhere as long as it's nice and quiet: my bed(s), Mum's bed (sometimes next to or on top of Mum herself), my cat trees, rugs, blankets, the sauna bench, etc.
That's great. Thank you so much Esmeralda for this chat and have a nice autumn!
Thanks! Remember to follow me on Instagram @esmeraldasescapades so that you don't miss anything!
---
Naturligtvis. Nu har jag uppehållit dig tillräckligt och du behöver säkert få din skönhetssömn. Sover du gott förresten?
Jajamän, jag är en katt vet du, jag älskar att ta tupplurar! Jag kan sova i princip var som helst bara det är lugnt och skönt: min(a) bädd(ar), mattes säng (ibland bredvid eller ovanpå matte själv), mina klätterträd, mattor, filtar, bastulaven etc.
Så bra. Tack så mycket Esmeralda för pratstunden och ha en trevlig höst!
Tack! Kom ihåg att följa mig på Instagram @esmeraldasescapades så ni inte missar något!