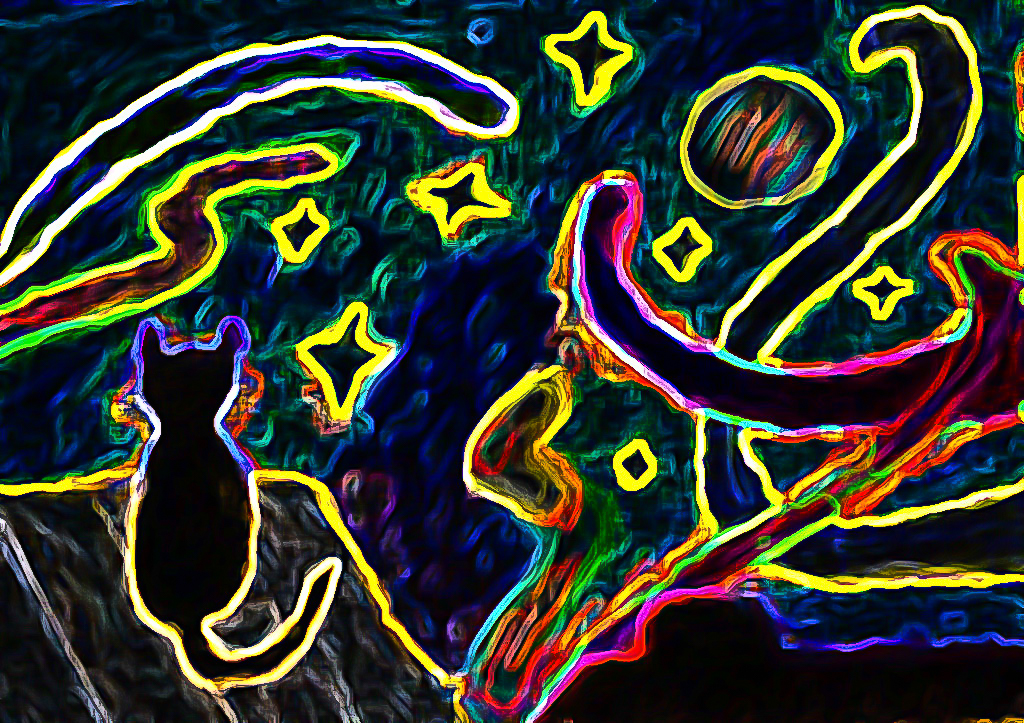 Hello everybody! Even though the first month of 2019 has come to an end, I wish you a happy new year, with reference to the picture above that I call 'New Year's Eve'. I would not define it real art (and the first version was a complete disaster); in fact, it is not my style at all, I usually prefer to create pieces of artwork with a more delicate and less garish expression. But variety is the spice of life and in lack of better materials for this post, this will do as illustration.
January has been a quite gloomy and busy month, nothing extraordinary though, I have been occupied with the usual work stuff, but even small things have seemed difficult because of stress about personal matters. There have been so many disappointments, dashed hopes and empty promises lately, thus I have found it hard to focus and to find motivation.
However, I have something exciting going on when it comes to work, since I have successfully passed interviews and an aptitude test for a part-time job. I think this could be really beneficial to my research as well as more in line with my genuine interest regarding IP law combined with art. Nevertheless, I might be jumping the gun as the training period remains to be completed, but so far so good, and at least I have gained some experience from the whole process.
That was all for now. Hopefully, I will find inspiration this year to improve my artistic skills, which for me goes hand in hand with finding inner peace.
---
Hej allihopa! Även om årets första månad snart är till ända önskar jag er ett gott nytt år, apropå bilden ovan med titeln "Nyårsafton". Jag skulle kanske inte kalla den ett konstverk (och den första versionen var urusel); faktum är att det inte är min stil alls, jag föredrar oftast att skapa konstverk med ett mer finstämt och inte så grällt uttryck. Men omväxling förnöjer som bekant och i brist på bättre material till det här inlägget får den duga som illustration.
Januari har varit en rätt dyster och bråd månad, inget extraordinärt dock, jag har varit sysselsatt med det vanliga knoget men stressen över personliga saker har inte underlättat direkt. Det har varit så många besvikelser, grusade förhoppningar och tomma löften på sistone, vilket gjort att jag har haft svårt att fokusera och hitta motivation.
Dock har jag ett spännande uppdrag på gång på jobbfronten, eftersom jag har klarat av intervjuer och ett lämplighetstest med lyckat resultat för ett deltidsjobb. Jag har på känn att det kan vara till fördel för min forskning och mer i linje med mitt genuina intresse för immaterialrätt i kombination med konst. Fast nu går jag kanske händelserna i förväg då det ännu återstår prövotid, men hittills verkar det lovande och i vilket fall som helst har jag blivit en erfarenhet rikare av hela processen.
Det var allt för tillfället. Förhoppningsvis kommer jag under detta år att finna inspiration att förbättra mina konstnärliga färdigheter, vilket för mig går hand i hand med att finna inre ro.