Hello everybody! It has certainly been too long since my last blog post, so I do not really know where to begin. However, I hope you are doing well despite the challenging times we are (still) living in. For me personally, 2021 was not the best year, but not as bad as 2020, much thanks to the changes in my daily work. As regards life in general, nothing has really changed, at least not for the better, hence the silence on this blog. Anyway, I thought I should publish the traditional Christmas post before Midsummer is here.
Hej allihopa! Det har verkligen gått alltför lång tid sedan mitt senaste blogginlägg, så jag vet inte riktigt i vilken ända jag ska ta upp tråden på nytt. Hur som helst hoppas jag att ni har det bra trots de utmanande omständigheter som (fortfarande) råder. För mig personligen var 2021 inte det bästa året, men inte så dåligt som 2020, mycket tack vare förändringarna i mitt dagliga arbete. När det gäller livet i övrigt har inget egentligen förändrats, åtminstone inte till det bättre, vilket förklarar bloggtorkan. Nåväl, jag tänkte att det vore bäst att publicera det traditionella julinlägget innan midsommarfestligheterna nalkas.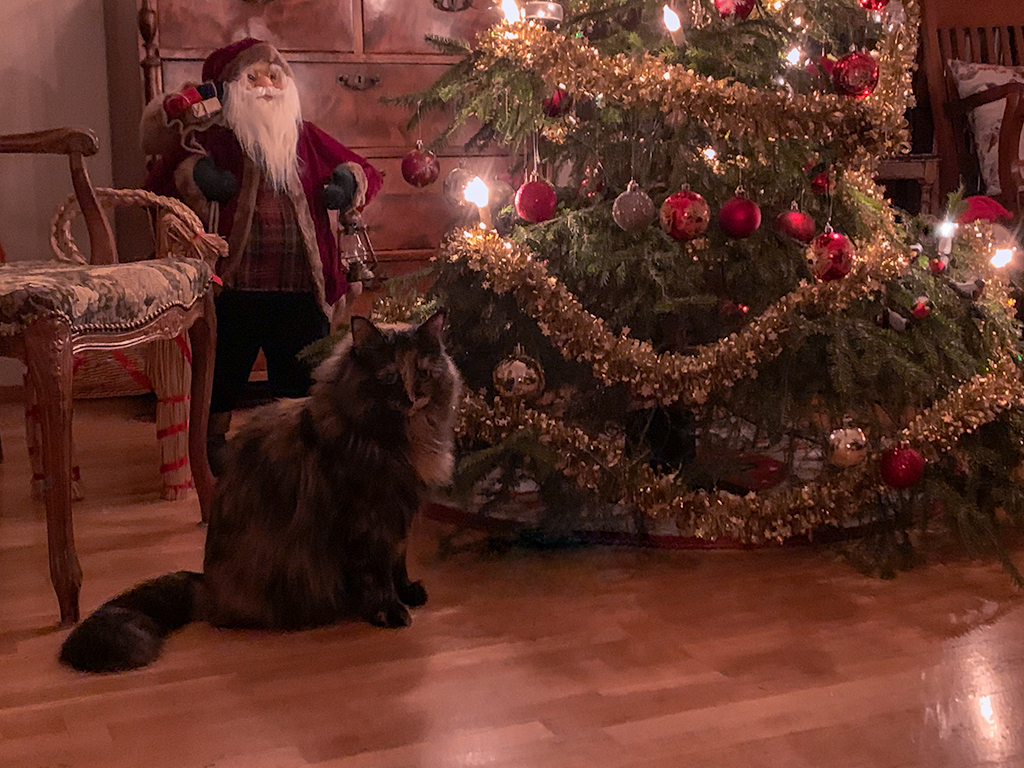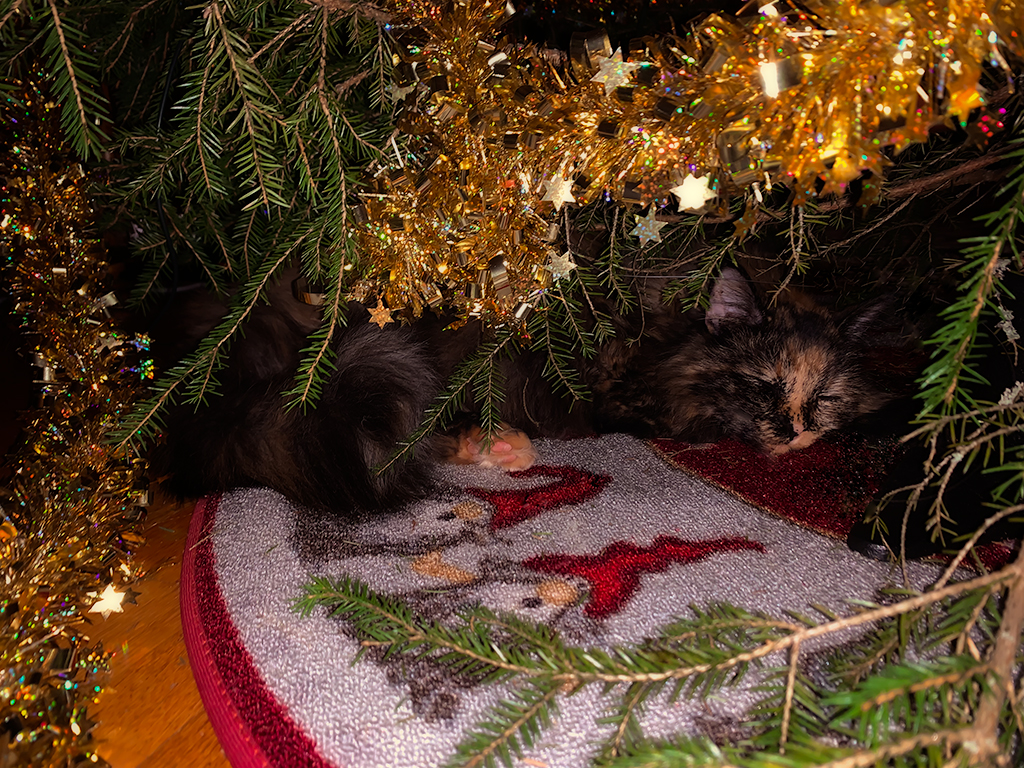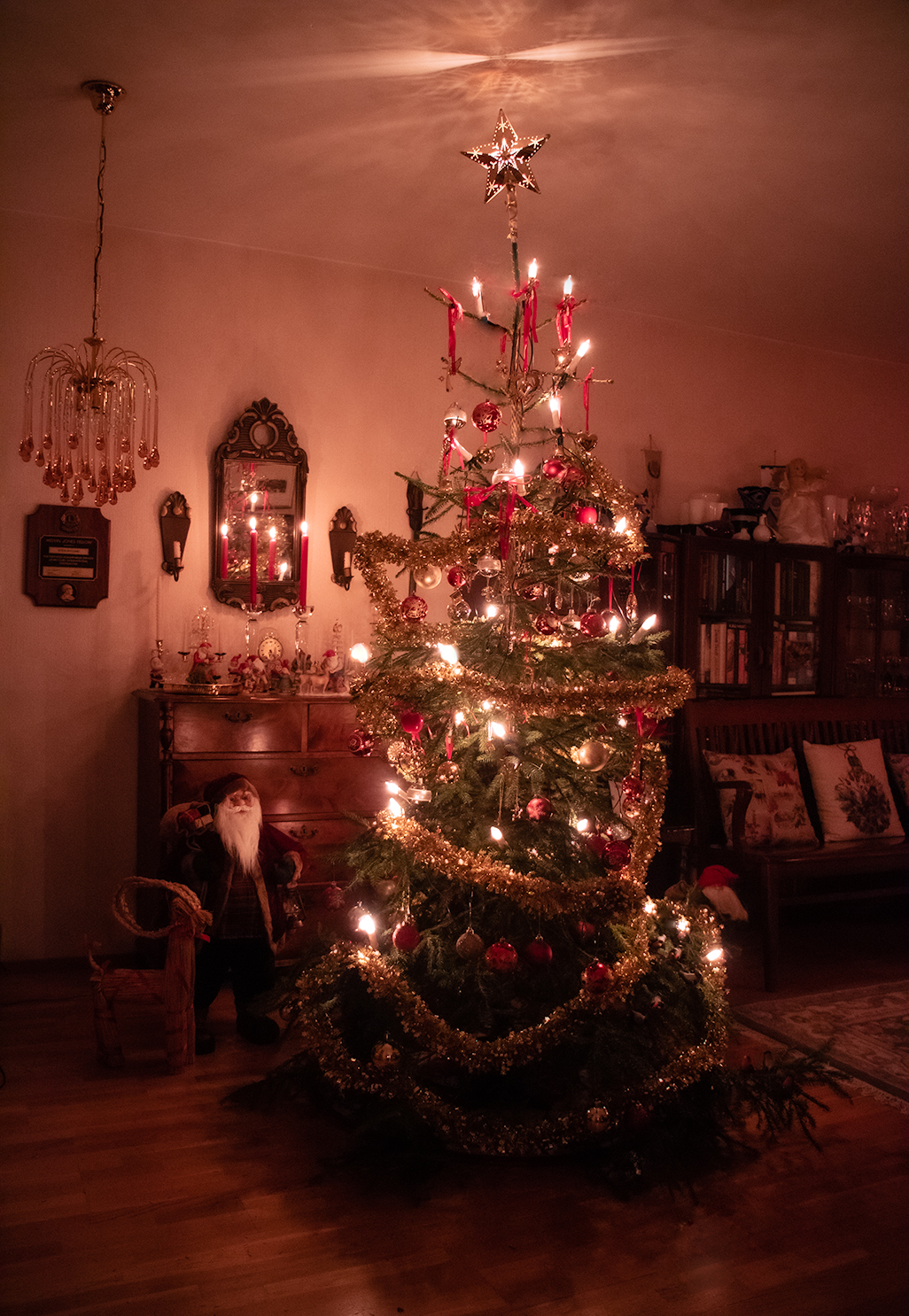 This Christmas tree was not the sturdy kind that I prefer, but I had to make the best of what we had at my parents' place in Jakobstad. In fact, it was a true struggle to get the tree to stand somewhat straight, not to mention decorating it with all the glittery ornaments (I did not use all the ornaments we have, otherwise the tree would have tipped over for sure). Oh well, it turned out quite alright and at least Esmeralda was very pleased with the result, although she made some 'adjustments' here and there (she is a cat after all). 
Denna julgran var inte av den kraftigare sorten som jag föredrar, men jag fick göra det bästa av vad som fanns hos föräldrarna i Jakobstad. Det var riktigt slitsamt att få granen att stå någorlunda rakt, för att inte tala om att klä den med allt glittrigt pynt (jag använde inte allt pynt vi har, annars skulle granen garanterat ha vält omkull). Nåja, det blev en julgran till sist och åtminstone Esmeralda var mycket nöjd med resultatet, fastän hon gjorde vissa "justeringar" här och där (hon är ju en katt).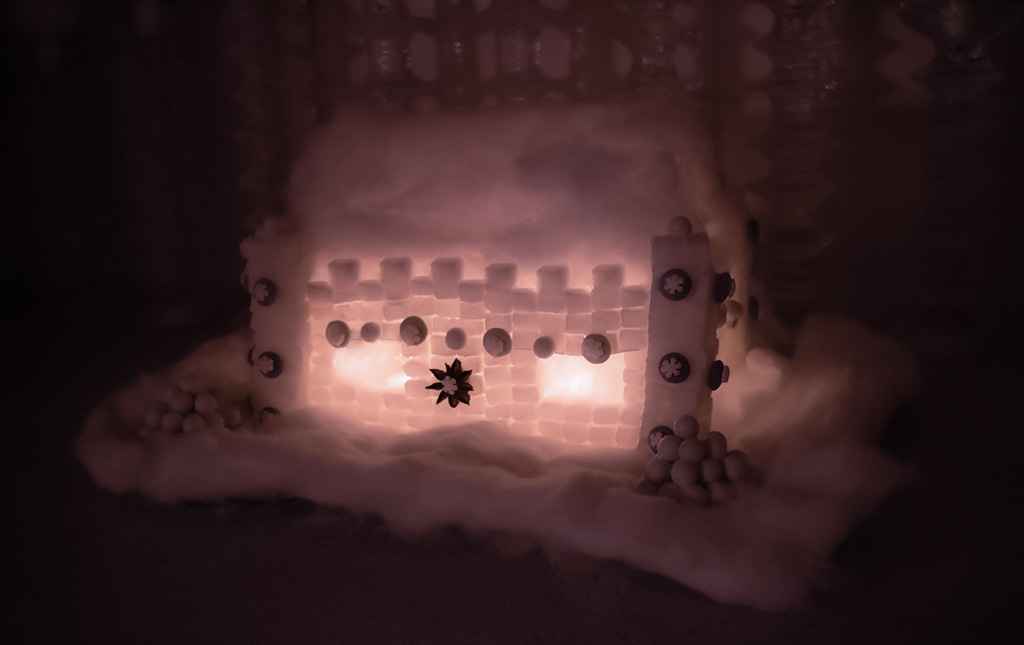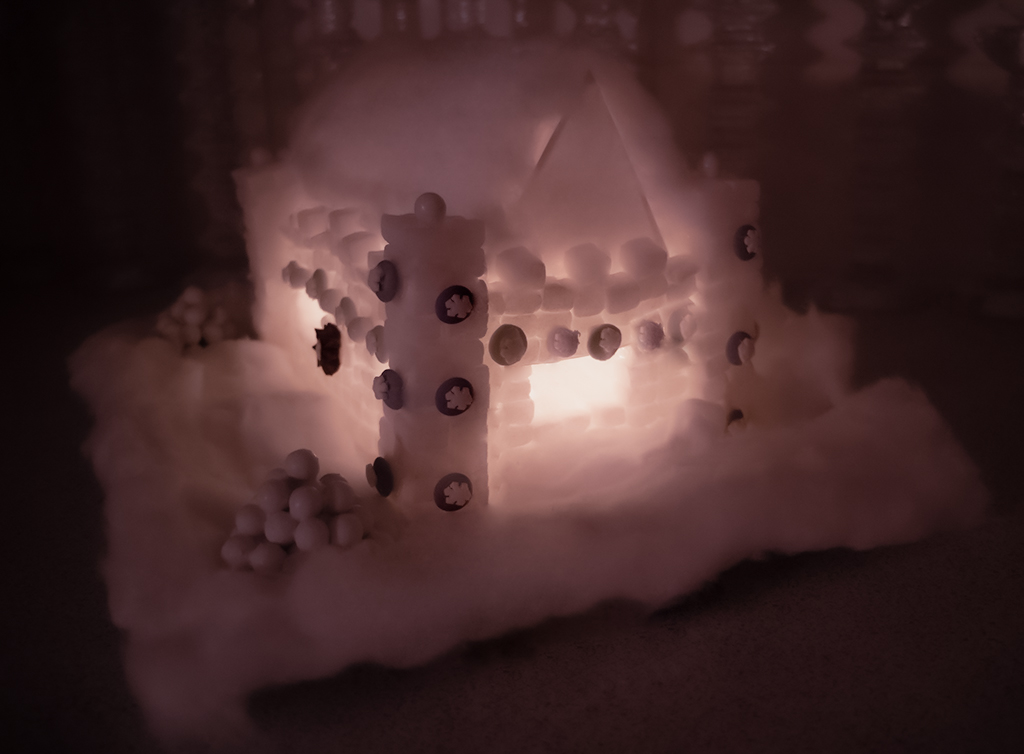 No gingerbread house this time, I made a more wintry creation instead, inspired by the snow-covered landscape outside. As regards the building material, I could swear that sugar cubes were more precisely cut in the past. Next time I will try to trim the edges, but then again, it was nice to do something less ambitious for a change, since my daily work requires high precision.
Inget pepparkakshus denna gång, jag knåpade ihop ett vintrigare alster i stället, med inspiration från det snötäckta landskapet utomhus. Vad gäller byggmaterialet kan jag svära på att förr var sockerbitar mer precist skurna. Nästa gång ska jag försöka fila kanterna, fast det var kul att göra något mindre ambitiöst som omväxling till mitt dagliga arbete som kräver hög precision.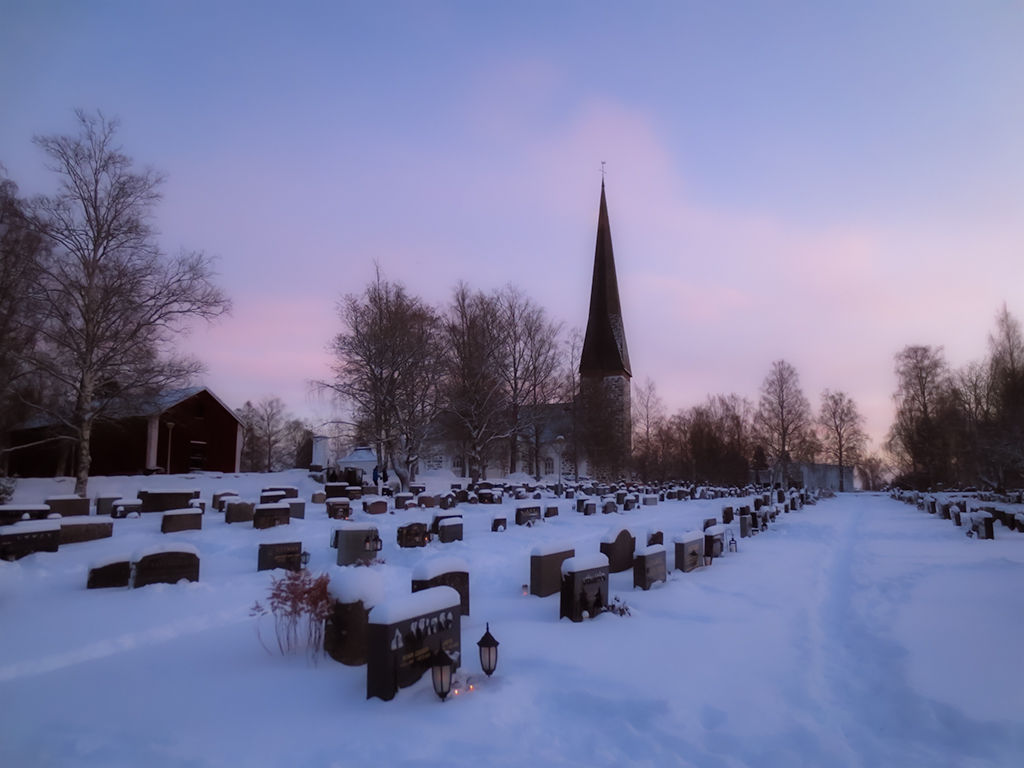 Speaking of snow, the dream of a white Christmas came true indeed. In fact, I cannot even remember the last time we had this much snow already in December. I am certainly not complaining, this is winter at its best! Now it remains to be seen whether the rest of the winter photos I have taken recently turned out great. Hopefully, 2022 will be the year when more dreams come true and things take a turn for the better in every way.
Stay safe and take care!
Apropå snö, drömmen om en vit jul förverkligades minsann. Faktum är att jag inte ens kan minnas när vi senast hade så här mycket snö redan i december. Jag klagar verkligen inte, detta är vintern när den är som bäst! Nu återstår att se om resten av vinterfotona som jag har tagit nyligen blev bra. Förhoppningsvis kommer 2022 bli året då fler drömmar går i uppfyllelse och bli en vändpunkt till det bättre på alla sätt och vis. 
Ha det bra och sköt om er!