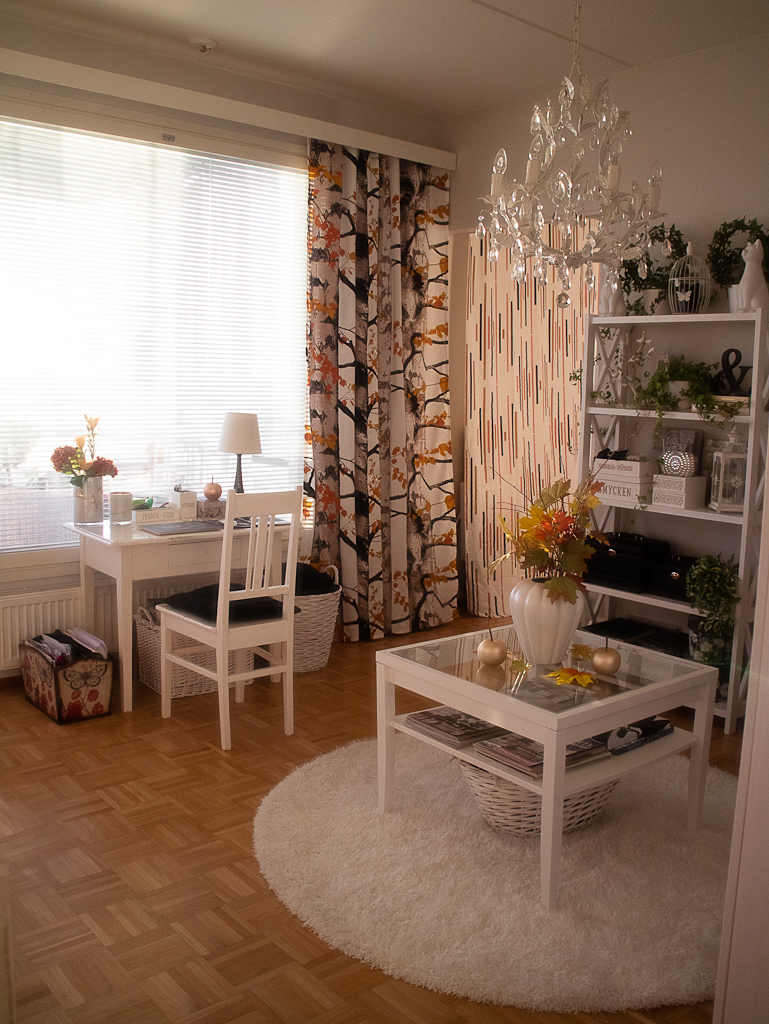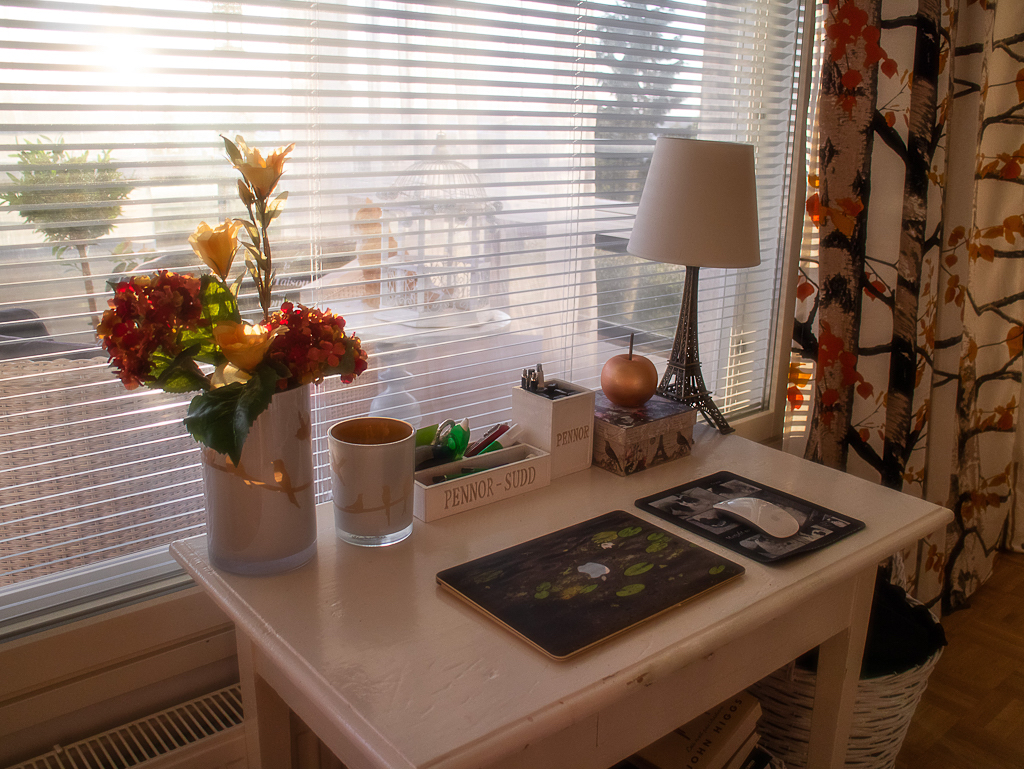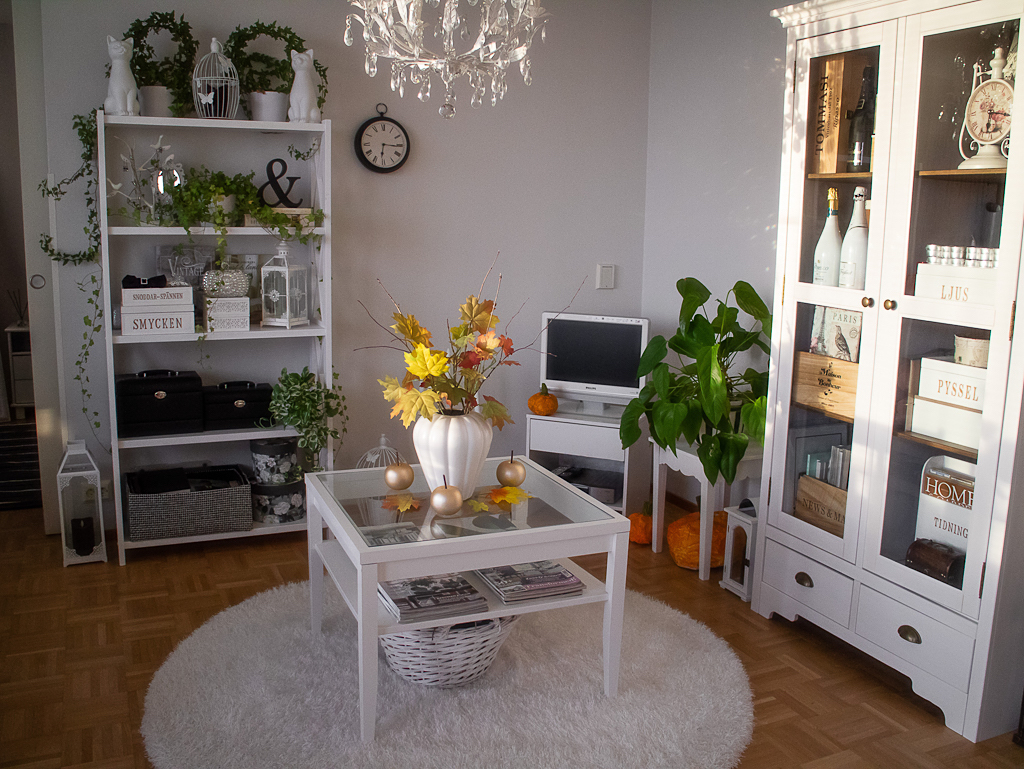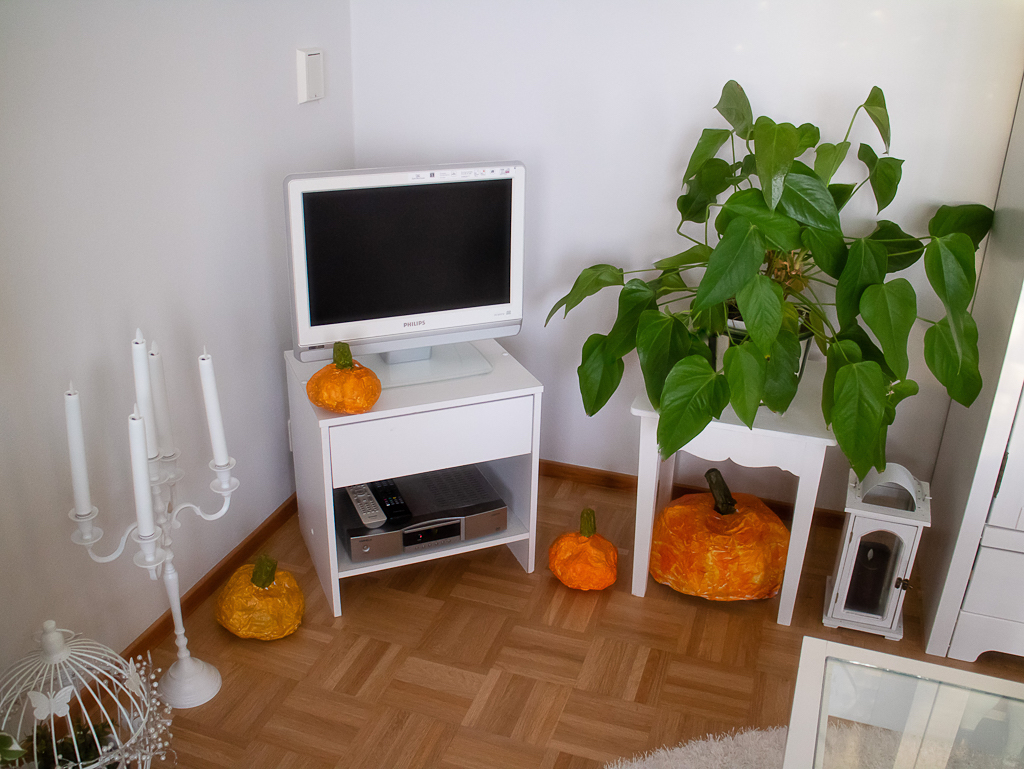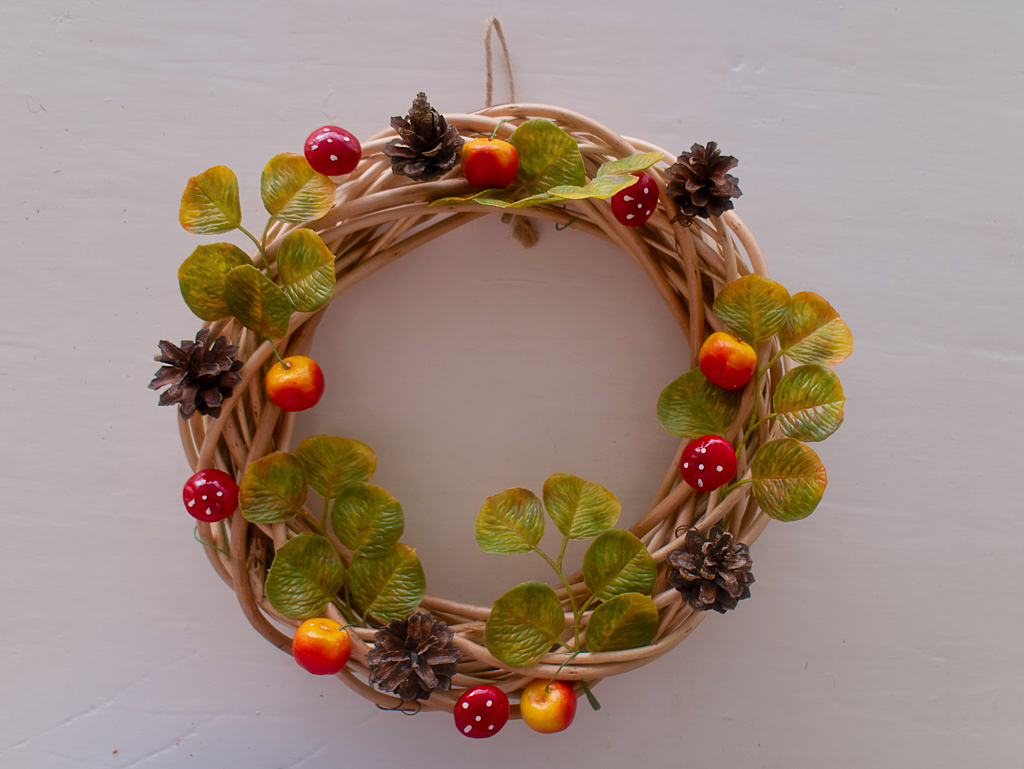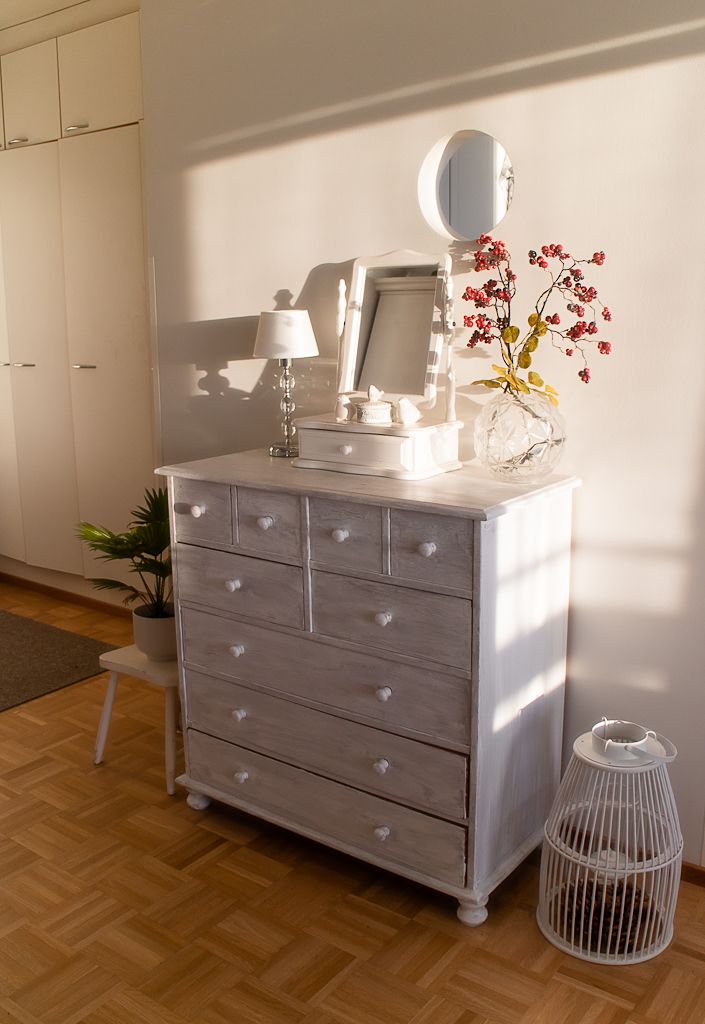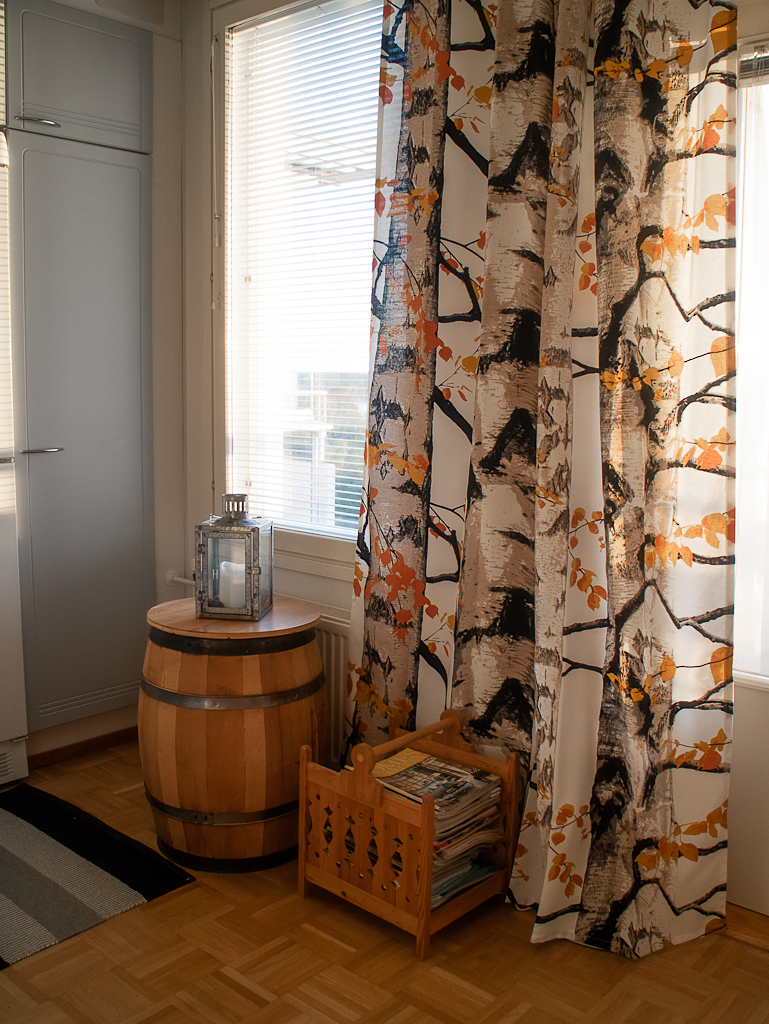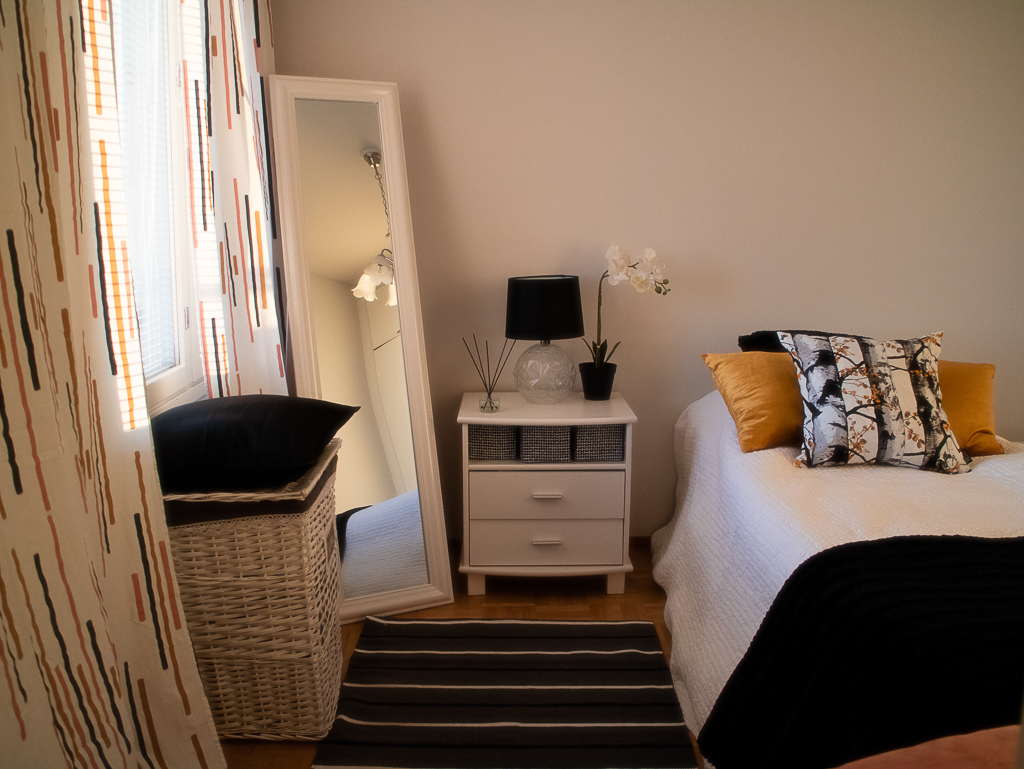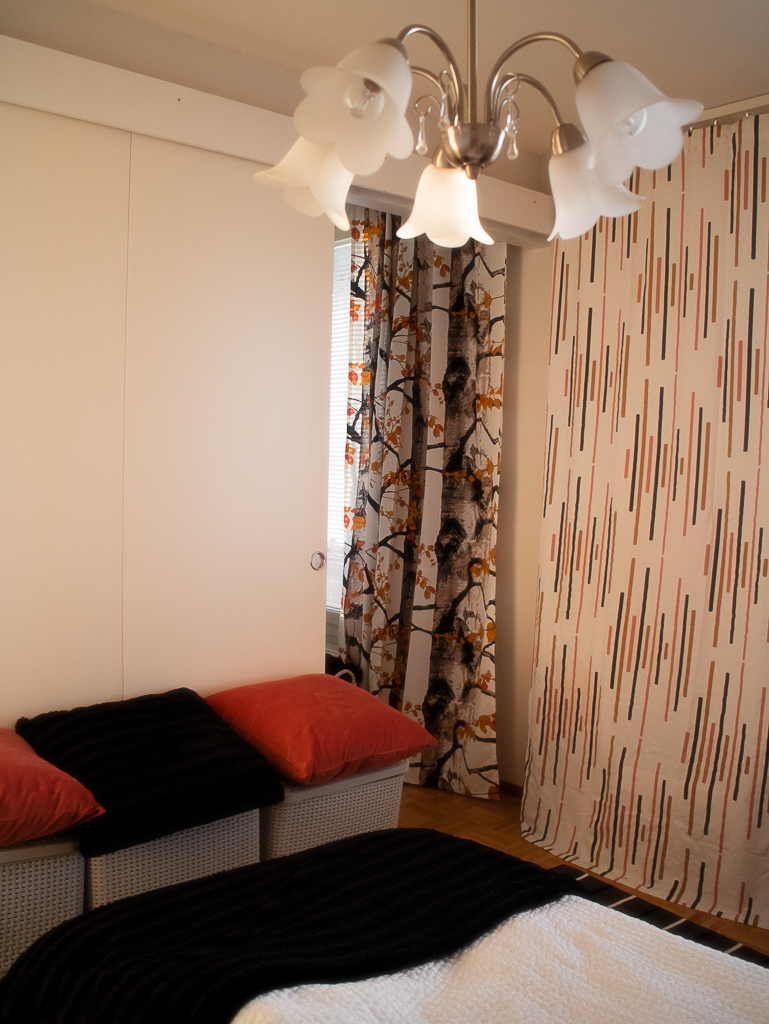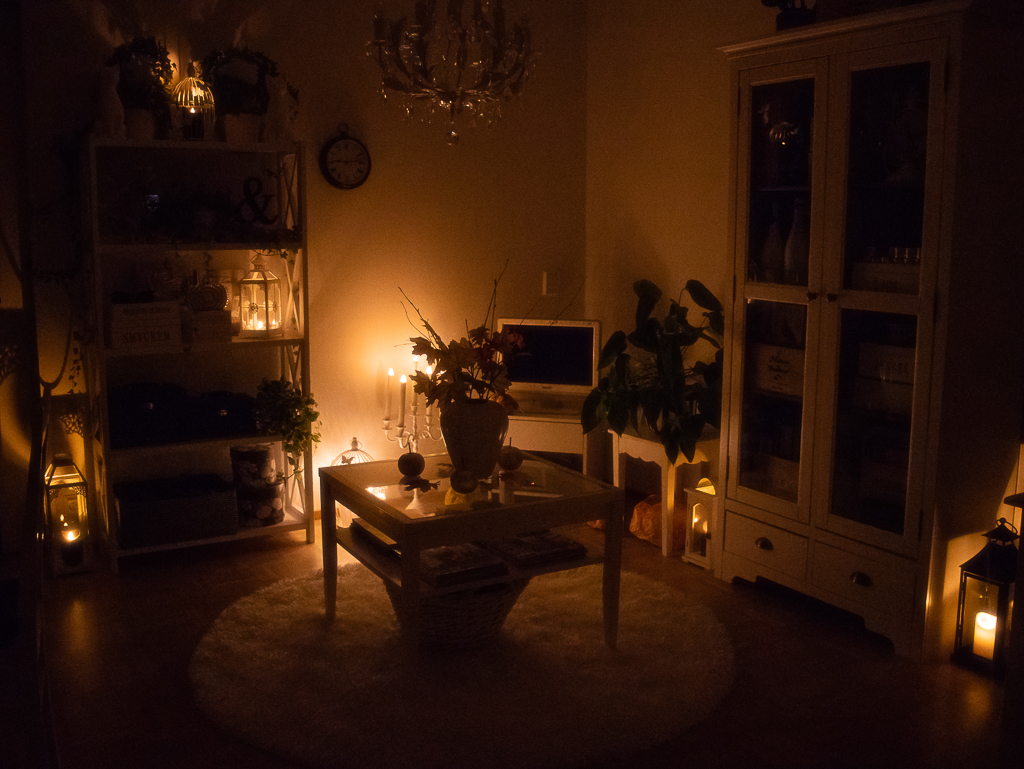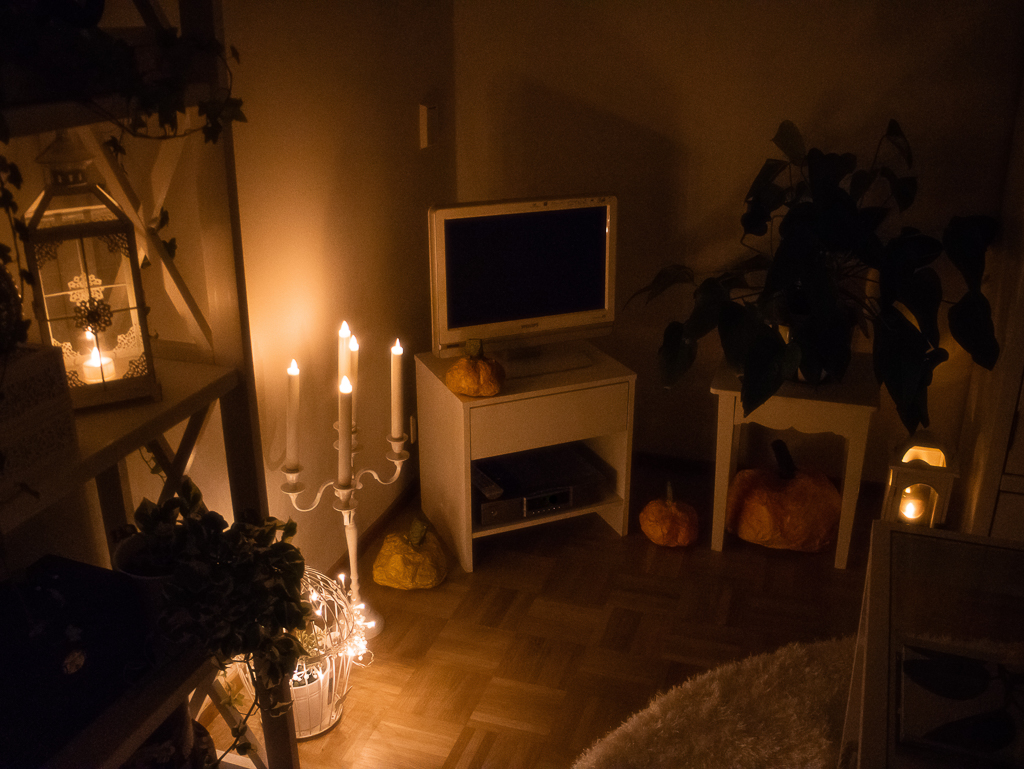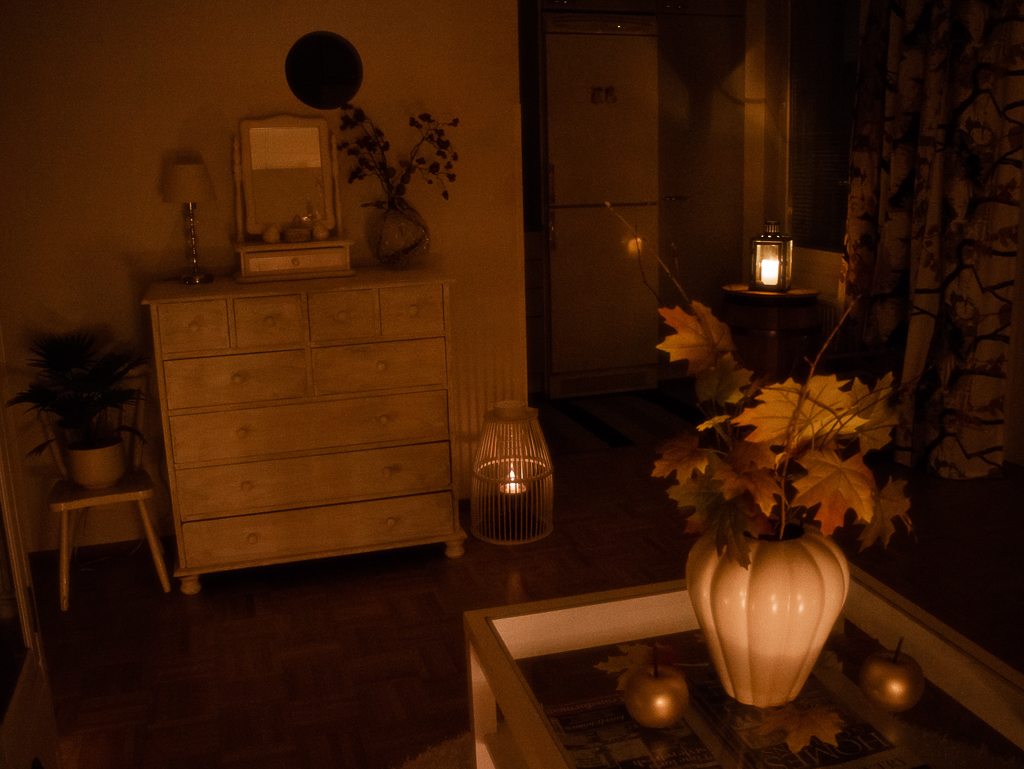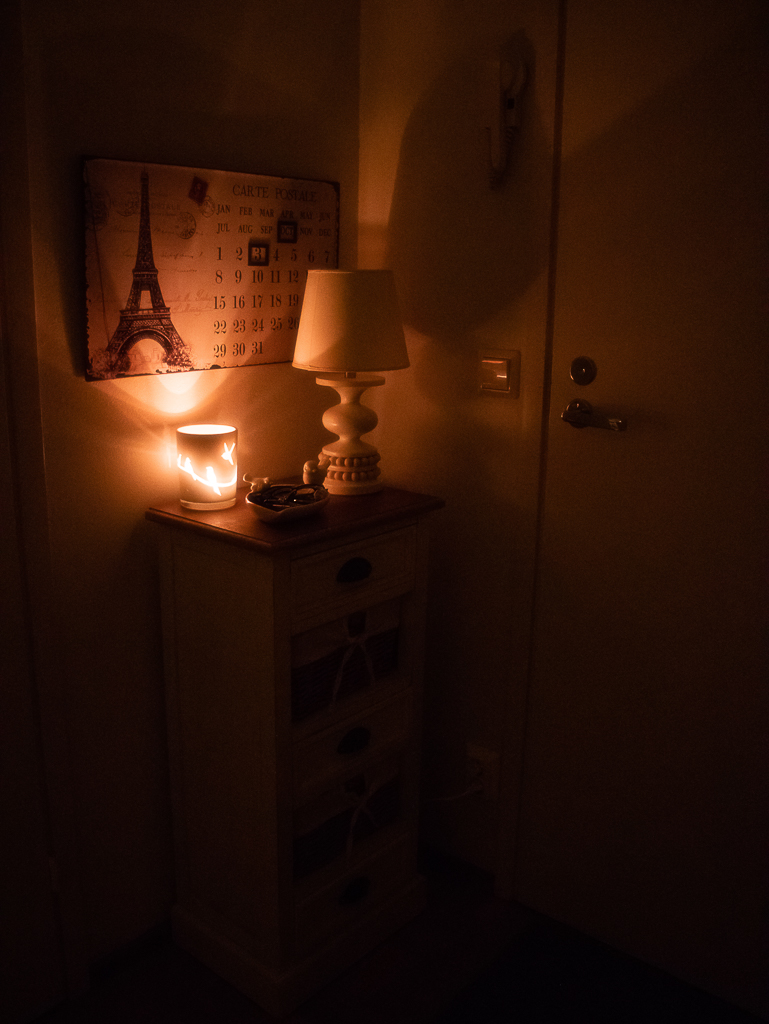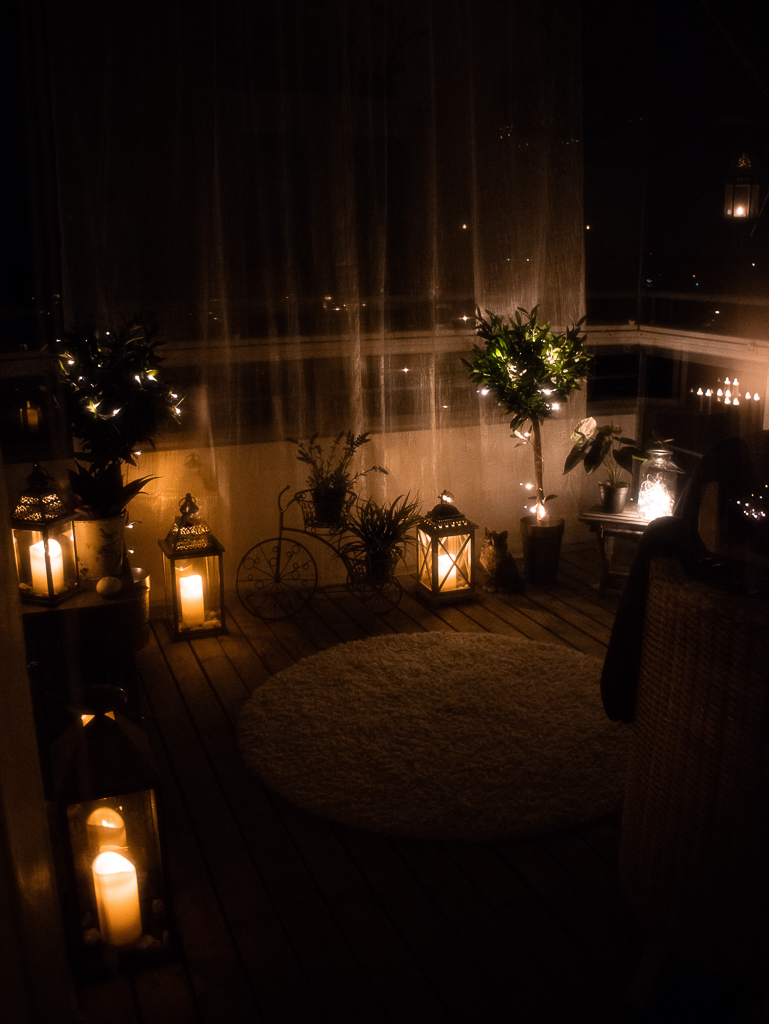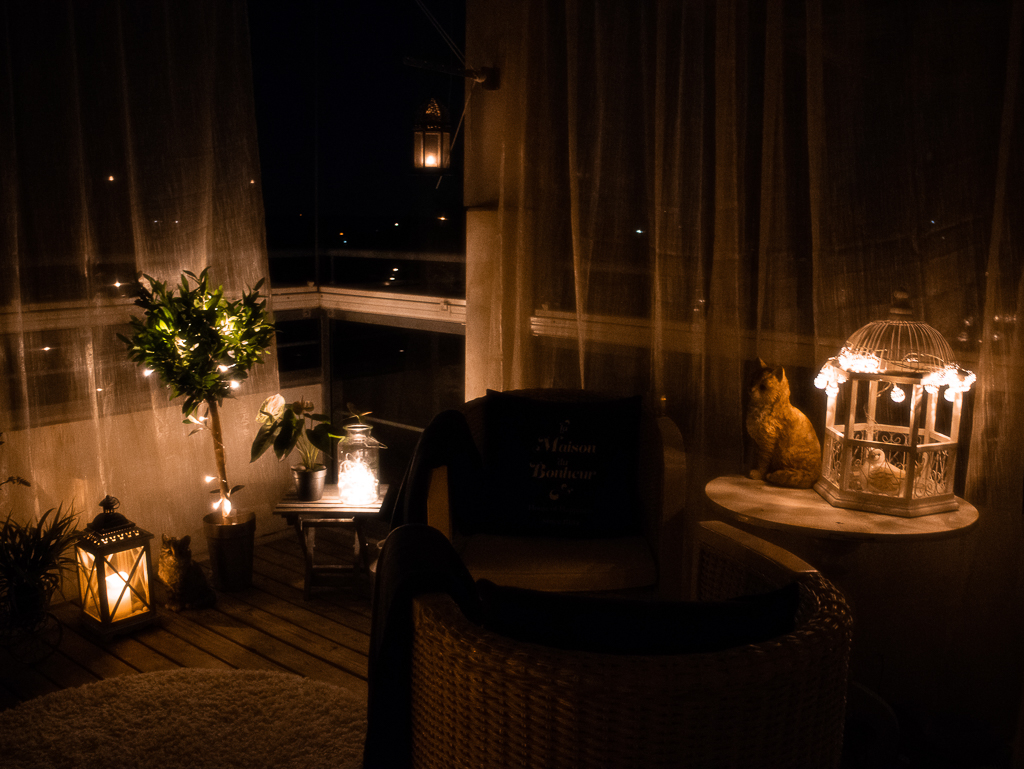 Same same but different, this is how I have decorated my flat in autumn:
Warm accent colours. I have noticed that (mustard) yellow is very trendy this autumn, but honestly, I do not follow trends in interior decorating or fashion for that matter (and those curtains and pillow cases are old stuff anyway). I like to bring in the seasonal colours of nature and decorate according to personal preference, whether trendy or not.
Nature love in artificial form. If I had a cottage with a garden of my own, I would use various natural materials for decorative purpose, but this will do for now (the pinecones and twigs are real, though). I have made the pumpkins myself by using papier-maché technique – it was great fun, so perhaps I will make a few more.
Lots of cosy lights (mostly battery-powered), both inside and outside on the (glazed-in) balcony. The neighbours must think I am totally crazy. Haha, no, they said it looks really nice actually.
October is here and I have busy days ahead: courses related to my doctoral studies, teaching, administration, editing of journals (yup, in plural form), expert assignment, and on top of it all, thesis writing. First there is nothing and then everything happens at the same time. Well, at least I can beaver away in a nice-looking home-office with a wonderful view.
---
Lika men ändå olika, såhär har jag höstpyntat i lägenheten:
Varma accentfärger. Jag har noterat att (senaps)gult är den stora trenden i höst, men ärligt talat följer jag varken inrednings- eller modetrender (och dessa gardiner och kuddöverdrag är inte köpta i år heller). Jag gillar att ta in naturens årstidsfärger samt att inreda enligt personliga preferenser, oavsett om de är trendiga eller inte.
Naturkärlek i konstgjord form. Om jag hade en egen stuga med trädgård skulle jag använda olika sorters naturmaterial i dekorativt syfte, men detta får duga tillsvidare (kottarna och kvistarna är dock äkta). Pumporna har jag tillverkat själv i papier-maché – urkul, så kanske gör jag några fler (finns viss risk för att det slutar med en styling à la "Paprikahuset" i Sverige, fast med pumpor, hehe).
Massor med mysbelysning (mestadels batteridriven), både inomhus och ute på balkongen (visserligen inglasad). Grannarna tror nog att jag är helgalen. Haha, nä, de sa faktiskt att det ser riktigt fint ut.
Oktober är här och jag har fullt upp en tid framöver: kurser som ingår i mina doktorandstudier, undervisning, administration, redigering av tidskrifter (jodå, i plural), expertuppdrag, och så en avhandling att skriva utöver allt detta. Typisk ketchupeffekt. Nåja, åtminstone kan jag knoga på i ett snyggt hemmakontor med en underbar utsikt.