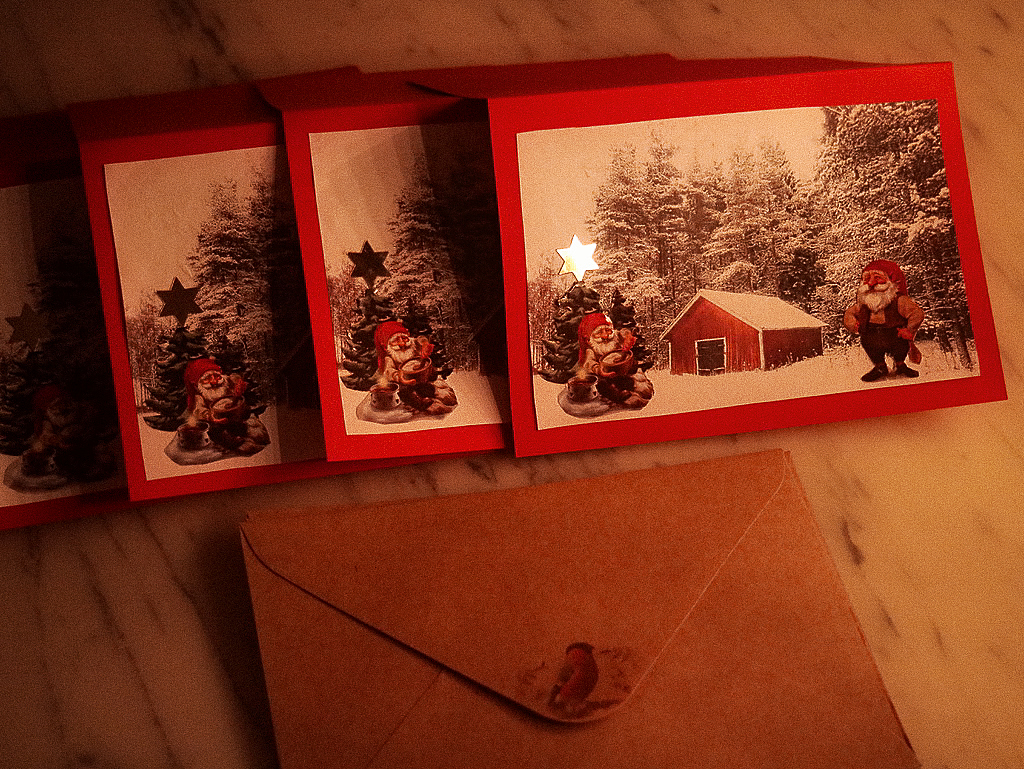 It is the last week before Christmas and the last chance to send your greetings if you have not done it already! Above you see the greeting cards I made earlier for this Christmas. I had some difficulty deciding on the design, and so I ended up using my so-called PPP (print and paste a photo) technique. Sometimes it comes in handy to have a quite comprehensive archive of landscape and nature photos.
Det är sista veckan före jul och sista chansen att skicka julhälsningar om ni inte har gjort det redan, onsdag 20.12 är absolut sista dagen att posta julkort inrikes! Ovan ser ni årets julkort som jag knåpade ihop och skickade iväg förra veckan. Jag hade svårt att bestämma mig i fråga om designen, vilket slutade med att jag grävde fram ett foto som jag printade ut och så lite "klipp och klistra" ovanpå det. Ibland är det bra att ha ett ganska omfattande arkiv med landskaps- och naturfoton.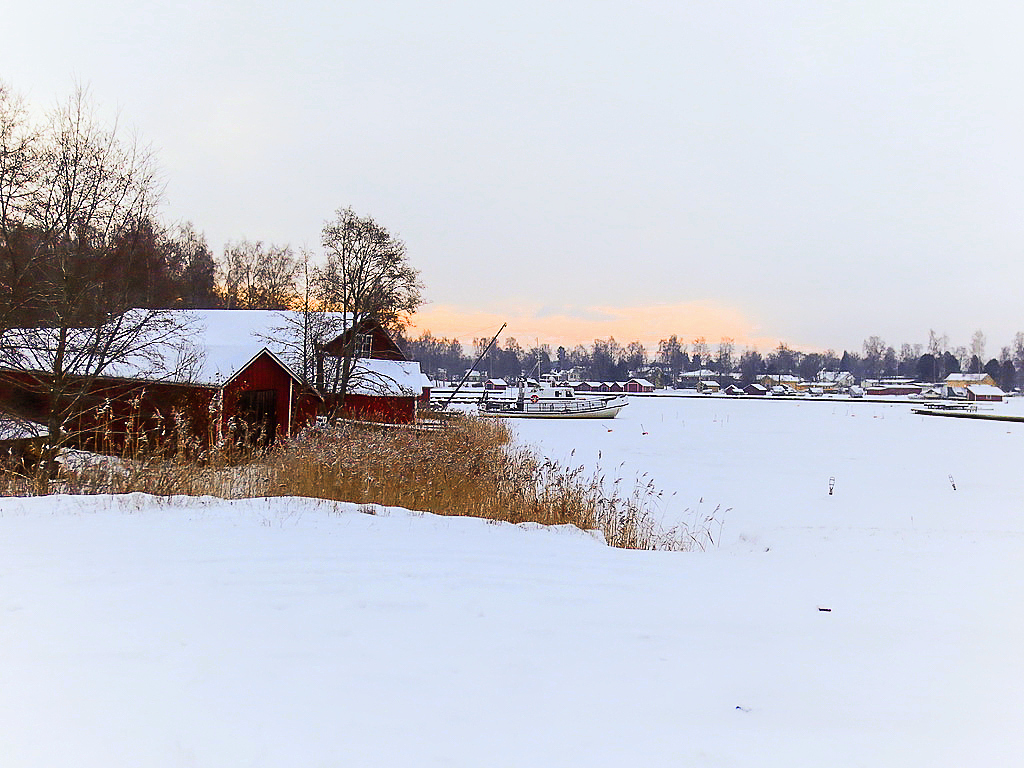 Same harbour with weather-beaten sheds, although from a different angle. It was not as wintry and snowy last weekend as when I took the photo I used for the cards, but still peaceful in the dusky light.
Samma hamn med väderbitna skjul, fast från en annan vinkel. Det var inte lika vintrigt och snöigt i helgen som då jag knäppte fotot som jag använde till julkorten, men ändå fridfullt i skymningsljuset.
---
The holidays are coming up and the halls are (almost) decked, not with boughs of holly, but with a glistening Christmas tree and traditional decorations. I still have some baking and decorating left to do at my parents' place where I will be spending Christmas, but first I have some ordinary work to finish before I 'strike the harp and join the chorus', fa-la-la-la, la-la-la-la.
Happy holidays!
Julen står för dörren – eller rentav i farstun – och hemmet är (nästan) färdigpyntat med julgran så grön och grann samt traditionella dekorationer. Jag har ännu det sista julbaket och julstöket kvar att ta itu med hemma hos föräldrarna i Jeppis där jag kommer att tillbringa julhelgen, men först väntar lite vardagsknog innan julfriden sänker sina vingar och jag slår upp (den visserligen inte så snöiga) porten på vid gavel för att släppa in julen som knackar på – eller är det månne tomten? *blink*
Fridfull juletid!