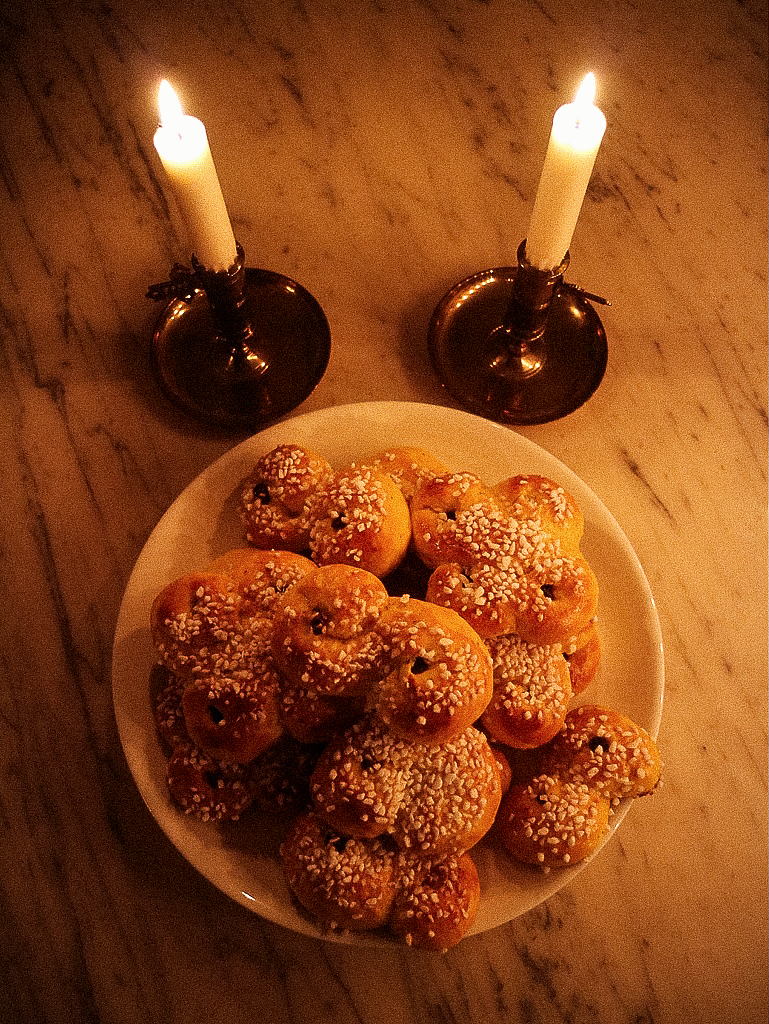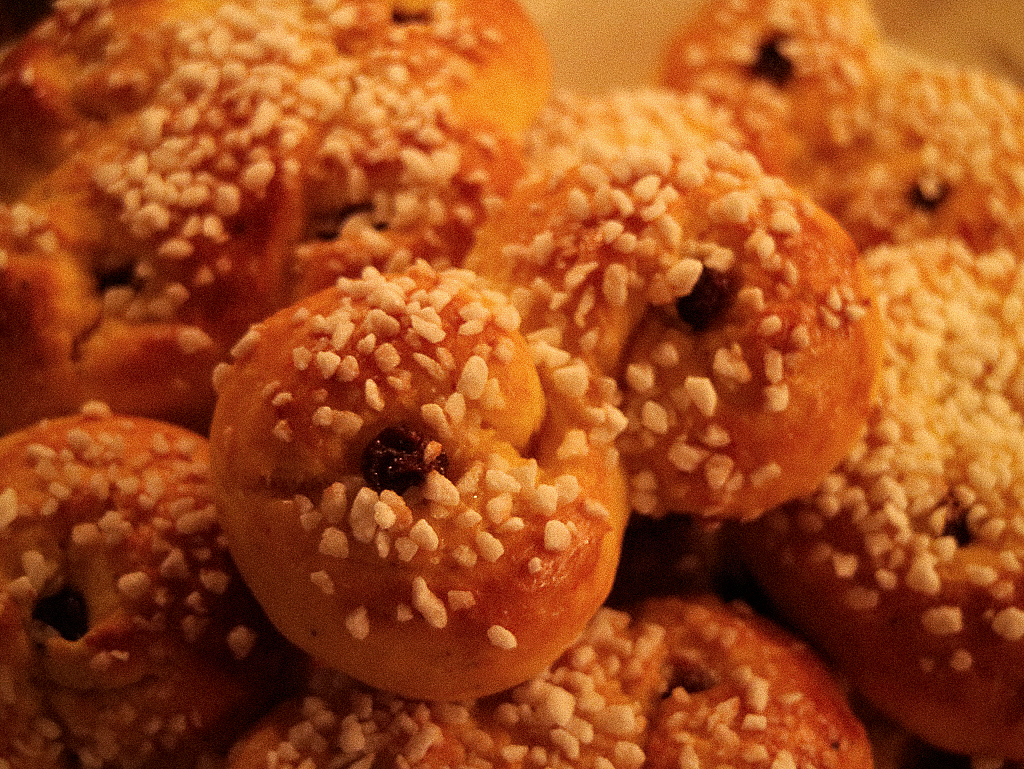 The midwinter darkness disperses and the seemingly endless night is filled with light as the Feast of Saint Lucy (or Santa Lucia) is celebrated today in Scandinavia and in the Swedish-speaking regions of Finland (and also in Italy, albeit with a different emphasis on the legend). This feast is surrounded by mystery originating from not only the legend of Saint Lucy, but also from folklore and myths about good and evil spirits. When I was a child, the anticipation was high for the festive light processions, which were the culmination of many weeks of rehearsals and preparations. However, the last time I participated in a Lucia procession was ten years ago, and I will not participate in one today either since I am going to attend a seminar about research ethics, among other things. Not the most exciting event but every form of enlightenment might be useful in the obscure academic life, I guess.
Whether celebrating or not, I always make saffron buns around this time of year. Fresh and fluffy buns make life more fun – I absolutely love these golden dainties shaped like the tail of a kitty cat, flavoured with both saffron and cardamom, and decorated with raisins and pearl sugar (no stint on the goodies here). My tip for soft and fluffy buns is to use real butter and only a small portion of flour, and to let the yeast work its magic properly. Finally, do not let the buns get burnt in the oven because in this context, black cats definitely mean bad luck!
Have a bright day!
---
Midvintermörkret skingras och den till synes ändlösa natten fylls av ljus när luciadagen firas i dag i Skandinavien och Svenskfinland (och även i Italien, fast med en annan betoning på legenden). Denna ljusfest är omgärdad av mystik som har sitt ursprung inte enbart i lucialegenden, utan även i folktro och myter om goda och onda varelser. När jag var barn brukade förväntningarna vara höga inför lussandet och luciatågen, som utgjorde kulmen av flera veckors övning och förberedelse. Det är dock tio år sedan jag sist var med och lussade i ett luciatåg och inte kommer det att bli något lussande i dag heller, eftersom jag bland annat ska gå på ett seminarium om forskningsetik. Inte det mest spännande evenemang men jag antar att varje form av upplysning kan vara till nytta i det dunkla akademiska livet.
Oavsett om luciadagen firas eller inte bakar jag alltid lussekatter kring den här tiden på året. Färska, luftiga lussekatter förgyller livet – jag fullkomligt älskar dessa gyllene läckerheter smaksatta med både saffran och kardemumma samt dekorerade med russin och pärlsocker (inget knussel här inte). Mitt tips för mjuka och porösa bullar är att använda äkta smör och endast en liten mängd mjöl samt att låta degen jäsa ordentligt. Slutligen gäller det att inte bränna bullarna när de gräddas i ugnen, för i detta sammanhang innebär svarta katter definitivt olycka!
Trevlig luciadag!