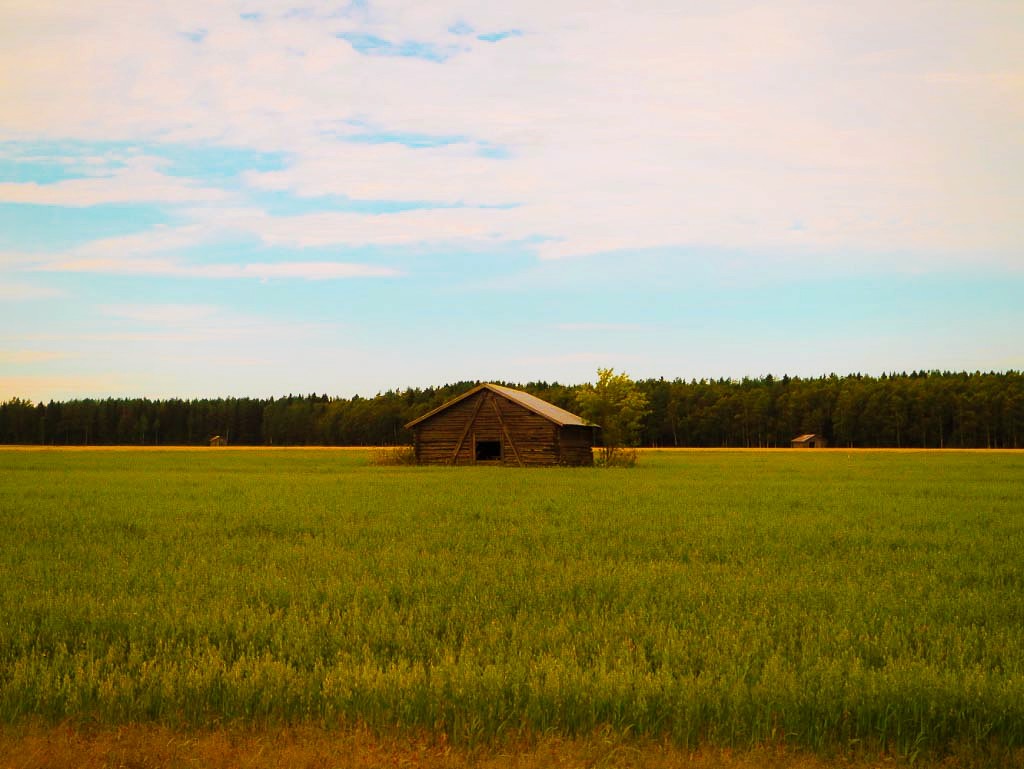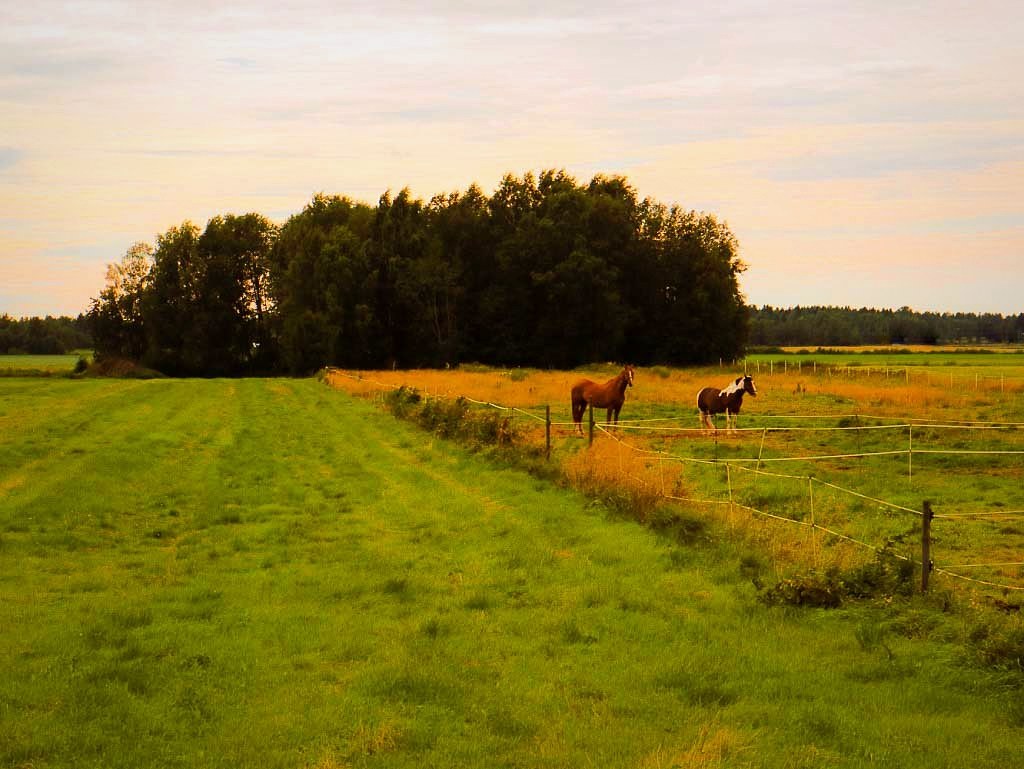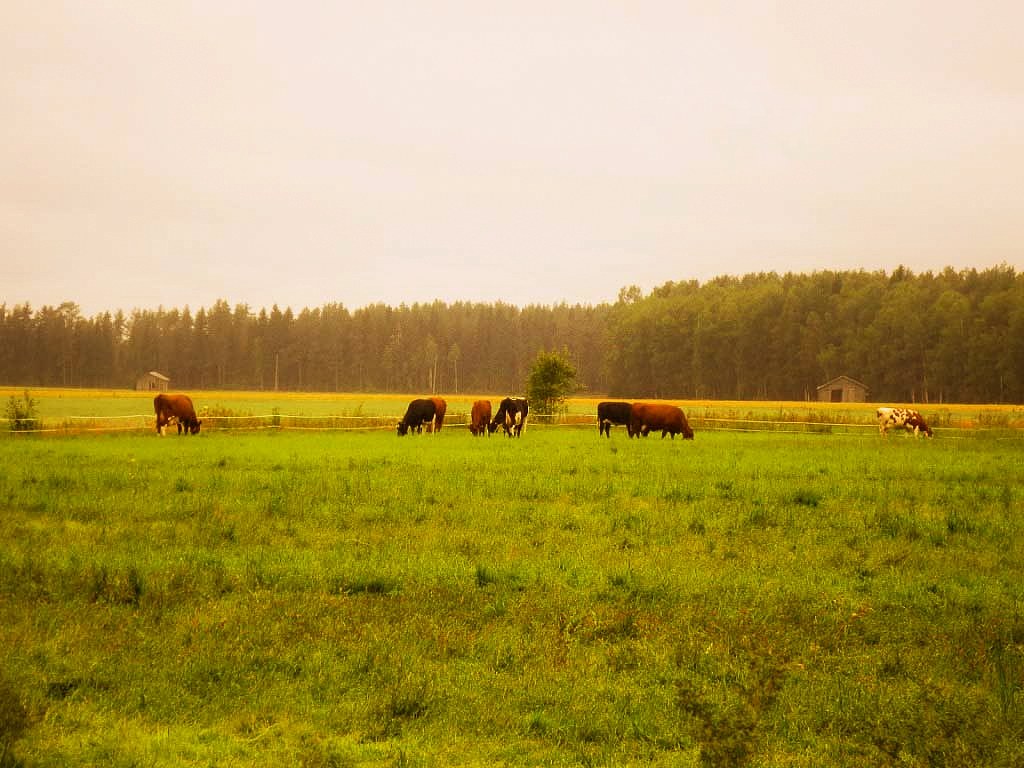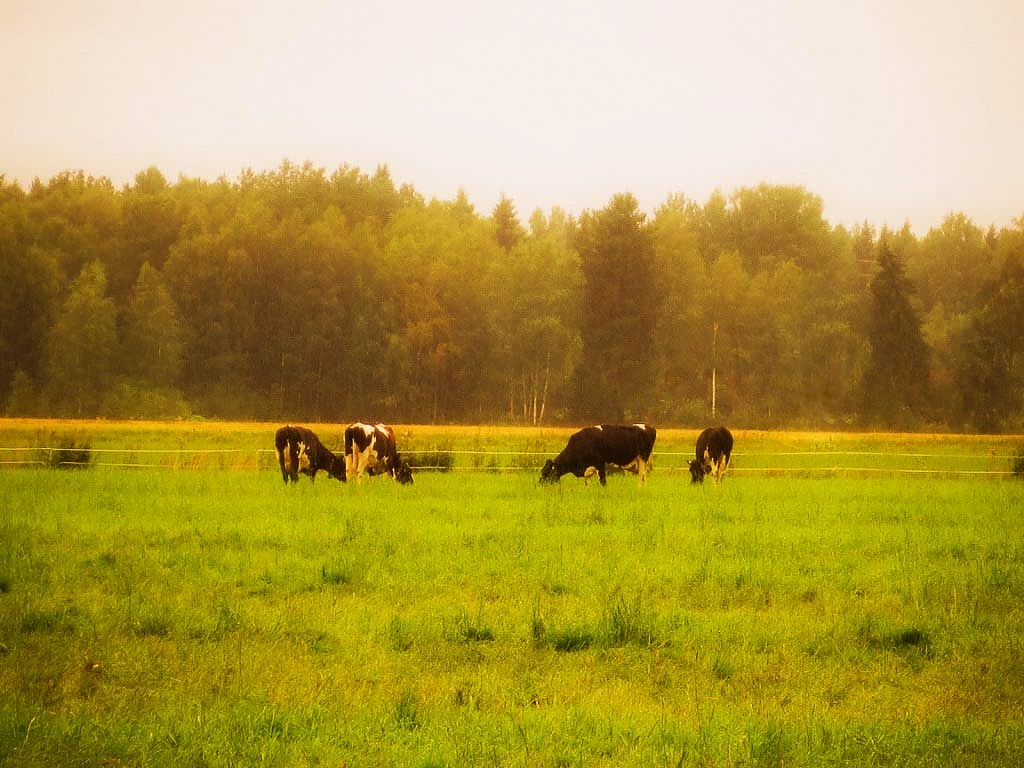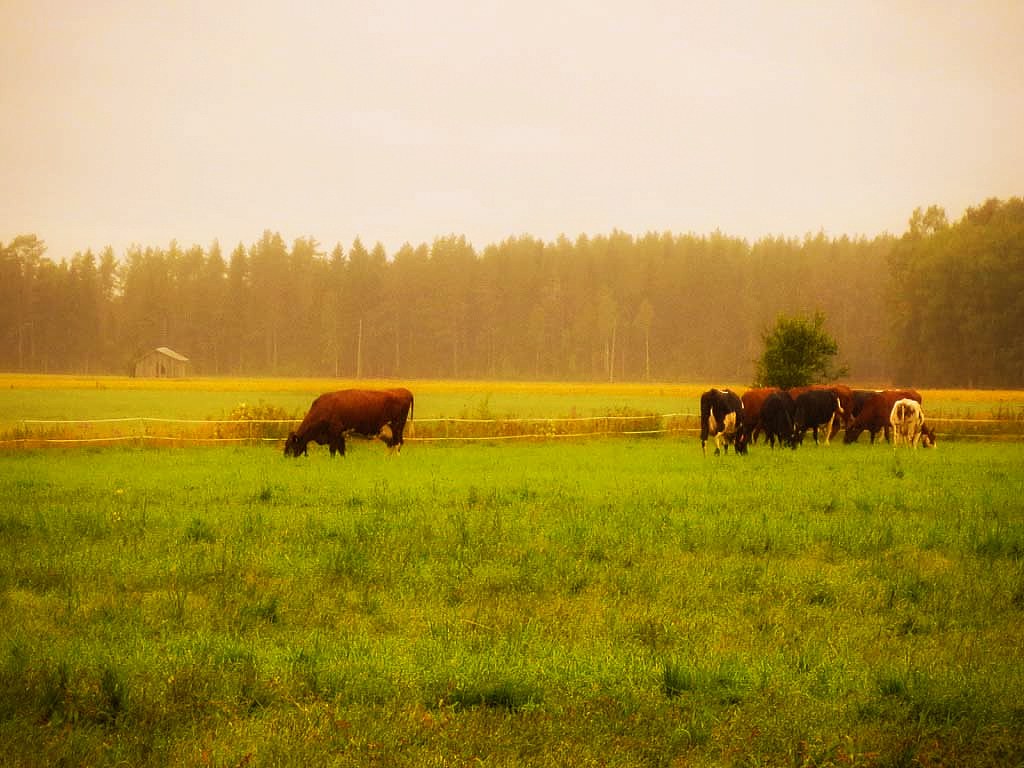 Oh, how serene it is, the sight of cattle grazing in the lush fields among old wooden barns and shady groves. Although this is a common view in the Ostrobothnian landscape, I never get tired of it! Now, I cannot exactly say that it is due to my roots, because my ancestors were crofters, cabinetmakers, blacksmiths and foundrymen rather than farmers. Nonetheless, I definitely prefer villages and small towns to big cities and metropolises, at least when it comes to more permanent living. After all, I am a small-town girl who is desirous of a cottage in the countryside and/or near the sea (the more desolated the better). The older I get and the more wretched society seems to become, the stronger the yearning for calm, silence and safety (save for the forces of Mother Nature) grows. But for now, I can only hope and pray (or realistically speaking: work hard and try to get forward) that some day these pictures will represent the everyday view from my window. (No need to be upset about destroyed harvest or pasture, I kept to the main road and did not trespass on someone's private property when I took the photos – common sense, that is.)
Have a peaceful Sunday!
---
Åh, så fridfull den är, åsynen av betande boskap på de grönskande fälten bland gamla stocklador och skuggiga skogsdungar. Även om detta är en vanlig vy i det österbottniska landskapet så tröttnar jag aldrig på den! Jag kan inte direkt påstå att det beror på mitt ursprung eftersom mina förfäder var torpare, snickare, smeder och bruksarbetare snarare än jordbrukare. Trots det föredrar jag definitivt byar och småstäder framför storstäder och metropoler, i alla fall när det gäller mer permanent vistelse. När allt kommer omkring är jag en småstadstjej som intensivt önskar sig en stuga ute på landsbygden och/eller nära havet (ju ödsligare desto bättre). Ju äldre jag blir och ju mer eländigt samhället ter sig, desto starkare blir längtan efter (ko)lugn, tysthet och trygghet (bortsett från naturkrafterna). Men i nuläget kan jag bara hoppas på och be för (eller realistiskt uttryckt: knoga på och försöka klättra uppåt) att dessa bilder en dag representerar den vardagliga utsikten från mitt fönster. (Ingen orsak till förargelse över nertrampad skörd eller betesmark, jag höll mig på allmän väg och inkräktade inte på privat egendom när jag knäppte fotona – sunt bondförnuft kallas det.)
Ha en skön söndag!