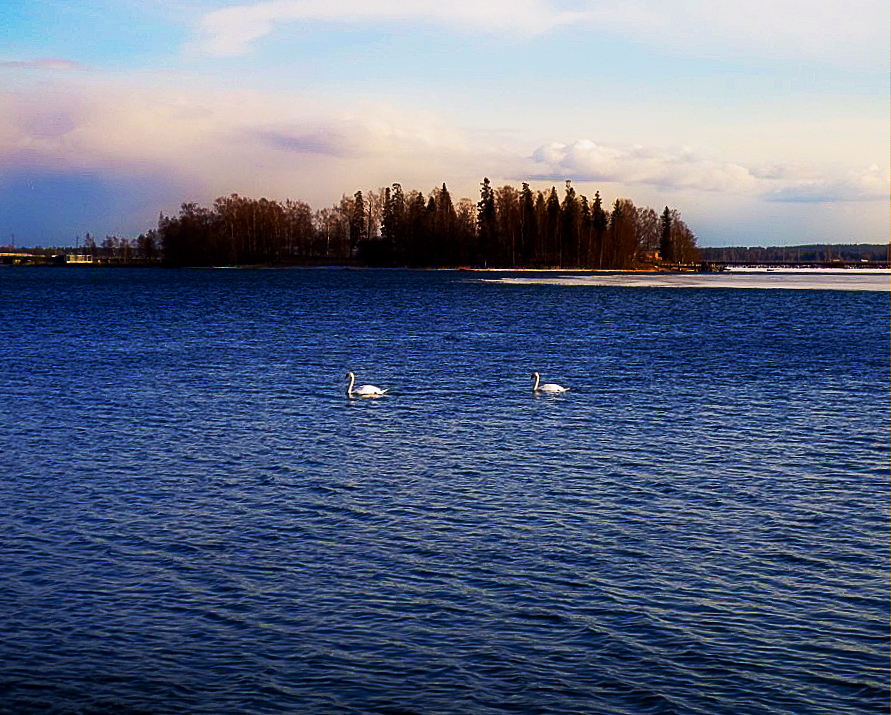 Hello everybody! It has been a while since I last updated the blog. So where to begin? Well, the obvious first: The ice on the sea has finally melted, the mute swans have arrived in Vaasa in the wake of their kind (i.e. the whooper swans that came a few weeks ago) and the sunny days last week were a foretaste of summer (let us ignore the fact that it was snowing yesterday).
Now to the central issue: What have I been up to lately? That, my dear readers, is a question that you will find the answer to if you have a little look around on this website of mine. Yes, I have finally filled the Gallery with content! That was about time indeed, but since I had over 2,000 photos on just one memory card from the last six months only plus a whole bunch of older stuff elsewhere, you do not need good maths skills to understand that this project required some serious thinking, picking and editing. Eventually, I came down with 100 photos that were good enough to be on display. The content is, of course, a dynamic entity; I am going to update the gallery whenever I feel to and have time to do it. So please enjoy and hopefully the overall quality will improve over time!
Moreover, I have also updated the front page (it is still under construction, though). You may have noticed that the front page and the blog page are two separate features here on the site, which is a deliberate choice. My intention, or rather wish, for this website is that it will have a professional as well as a personal dimension in the future. Regarding the professional, I would like it to be something like this and this, i.e. a commentary on interesting legal affairs, focusing on copyright law in relation to art, photography, trademarks and other types of IPR protection, and the use of copyrighted material (and trademarks) in social media in particular. There are, of course, old-school academic journals for that sort of writings, but I believe that open access is the key, especially since I wish to write not only for people in the academic field, but also for others ('ordinary people') interested in the topics. Explained in the right words depending on the reader, legal stuff can actually be quite intriguing – trust me, although I am a lawyer. When it comes to the personal dimension, well, only time will tell, but one thing is for sure and that is my wish to improve my photographic skills and develop my artistry (if one may call it art).
Enough about the future now, because in the present, I have 'real' work to do; hence I need to end this excessive expounding. When I am not doing research on this kind of interesting stuff for my doctoral thesis, I will be writing on a piece about 'Bilingual Legal Education in Finland' (or actually trilingual since I will be writing in English) – do not even ask how I got myself involved in this, but at least I earn an extra income. In addition, I have three Master's theses waiting for a second review (luckily, I am not the supervisor, just the secondary examiner), so I had better get started.
Have a nice week!
---
Hallå allihopa! Det var ett tag sedan jag senast uppdaterade bloggen. Så var ska jag börja? Tja, det uppenbara först: Isen har slutligen smultit helt ute till havs, knölsvanarna har anlänt till Vasa i kölvattnet av sina artfränder (dvs. sångsvanarna som kom för ett par veckor sedan) och de soliga dagarna förra veckan gav en försmak av sommaren (vi kan ignorera att det snöade i går).
Nu till kärnfrågan: Vad har jag sysslat med på sistone? Den frågan finner ni svaret på om ni k(l)i(c)kar runt här på sajten. Jajamän, jag har äntligen fått tummen ur och fyllt galleriet med foton! Det var minsann på tiden, men faktum var att jag på endast ett minneskort hade över 2000 foton från enbart det senaste halvåret plus en hel hög med gammalt stoff lagrat på andra ställen, så ni kan säkert räkna ut att det var ett sjuhelsikes projekt att fundera, välja ut och (ny)redigera. Småningom fick jag ihop 100 foton som var tillräckligt bra för att visas upp. Innehållet är förstås en dynamisk enhet; jag kommer att uppdatera galleriet när jag känner för det och har tid över. Så varsågoda och beskåda, förhoppningsvis kommer den helhetsmässiga kvaliteten att förbättras med tiden!
Vidare har jag även uppdaterat förstasidan (som visserligen är under uppbyggnad). Ni har kanske märkt att förstasidan och bloggsidan utgör två separata delar på den här webbsidan, vilket är ett medvetet val. Min avsikt eller snarare önskan är att webbsidan kommer att ha både en professionell och en personlig dimension i framtiden. Vad gäller den professionella biten skulle jag vilja åstadkomma något i stil med detta och detta, dvs. en redogörelse för och kommentar till aktuella intressanta juridiska ärenden, med fokus på upphovsrätt i relation till konst, fotografi, varumärken och andra immaterialrättsliga skyddsformer samt användning av upphovsrättsskyddat material (och varumärken) i sociala medier i synnerhet. Givetvis finns det traditionella akademiska tidskrifter för den sortens skriverier, men jag upplever att dessa tidskrifter är ett alltför begränsat forum, så jag vill hellre satsa på bred tillgänglighet i syfte att nå ut till flera, speciellt med tanke på att jag önskar skriva för inte enbart akademiker, utan också för andra ("vanligt folk") med intresse för sakfrågorna. Förklarat (och förenklat) i rätta ordalag anpassat efter den tilltänkta läsaren kan juridik faktiskt vara riktigt spännande – tro mig, även om jag råkar vara jurist. Vad sedan beträffar den personliga dimensionen så får tiden utvisa hur denna del tar sig uttryck, men ett är säkert och det är min önskan om att kunna förbättra mina fotografiska färdigheter samt utveckla min konstnärliga ådra (om man nu kan kalla det konst).
Nog om framtidsplanerna för här och nu har jag "riktigt" arbete att ta itu med, så jag måste sätta punkt för denna spaltmeterlånga utläggning. När jag inte forskar i den här sortens intressant stoff för min doktorsavhandling kommer jag att vara i färd med att skriva om "Bilingual Legal Education in Finland" (eller det blir snarare trespråkigt eftersom jag ska skriva texten på engelska) – fråga inte ens hur jag blev involverad i detta, men åtminstone ger det mig en extra inkomst. Därtill har jag tre magisteravhandlingar som ligger och väntar på andrahandsgranskning (lyckligtvis är jag inte handledare/huvudgranskare, utan bara sekundärgranskare), så det är bäst att jag sätter igång.
Ha en bra vecka!