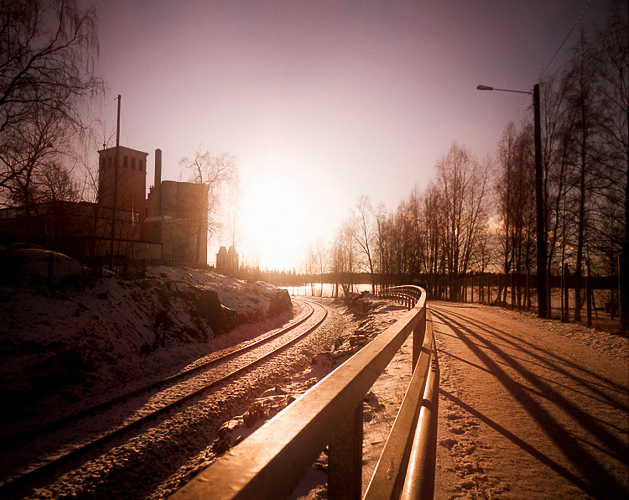 Hello everybody, long time no see! The silence can simply be explained by saying that everything got far too wretched in February, but at least regarding work we (or more accurately my supervisor) managed to sort things out once and for all. No more slave labour translation work etc., instead, I can finally get on with some real business – research in my interest field of law, that is. Now that is about time!
Although I have not been blogging lately, I have been out and about taking pictures as usual. Last weekend I also went cross-country skiing, love it! I truly hope that the ski tracks were not totally ruined by the pouring rain last night, because I intend to spend more time along the nature trail the upcoming weekend, it is winter holiday season after all. However, pictures from the last few weeks are coming up so stay tuned!
So long folks!
---
Hallå allihopa, det var länge sedan sist! Tystnaden kan enkelt förklaras med att allt – milt uttryckt – körde ihop sig i februari, men åtminstone vad jobbet beträffar lyckades vi (eller rättare sagt min handledare) lösa situationen en gång för alla (för min del åtminstone, om det eventuellt uppstår större kaos än vanligt i tentamensorganisationen i Helsingfors är det inte mitt problem). Så inga fler översättningar eller liknande administrativt slavarbete, utan i stället kan jag äntligen ägna mig åt det jag egentligen är anställd för, dvs. forskning inom den egna rättsdisciplinen. På tiden minsann! Att skyffla över alltmer arbete på doktorander och annan "billig arbetskraft" är helt oacceptabelt och absolut inte hållbart i längden. Sedan är det en väsentlig skillnad på extra arbete som jag själv har åtagit mig för att få extra inkomster (ja tack!) och extra arbete som bara stjäl dyrbar tid och energi samt som har noll relevans för min avhandling och inte främjar mina egna (forsknings)intressen för fem öre.
Fastän jag inte har bloggat på sistone har jag i vanlig ordning samlat på mig bilder under mina dagliga strövtåg. Förra veckoslutet begav jag mig också ut på en skidtur, och jag behöver väl knappast nämna att det var så in i norden härligt. Jag hoppas innerligt att skidspåren inte blev helt förstörda av hällregnet i går kväll, eftersom jag har för avsikt att staka på och glida fram längs fler grenar av vandringsleden under kommande veckoslut i bästa sportlovsanda. Hur det blir med den saken återstår att se, men som sagt har jag en hel del bilder på hög i alla fall, så håll utkik!
Ha det så bra!