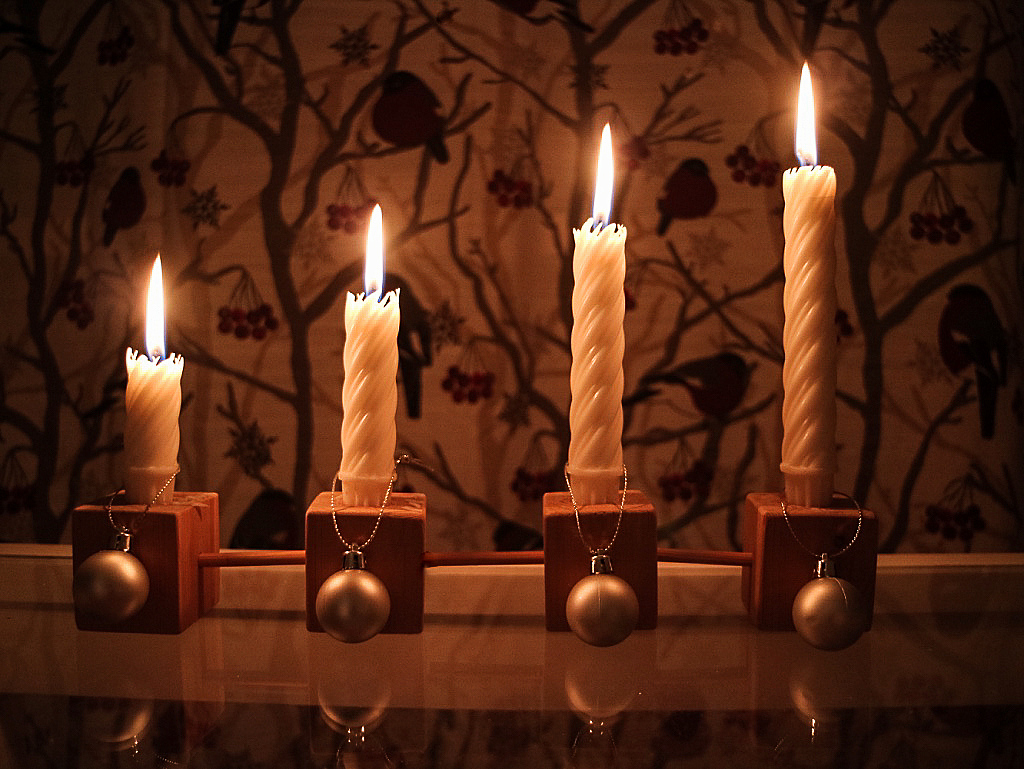 There we go, all four candles are lit in the Advent candlestick and it is less than a week left until Christmas (well, depending on whether you celebrate on the 24th or on the 25th of December). "Relax, there's plenty of time left!", someone might think. Nope, not for me since I will be stuck at work in Vaasa the upcoming week because the university thinks that it is a splendid idea to give exams four days in a row right before Christmas. Seriously, why do I not just quit this shit? It feels like a complete waste of time since there is no incentive for research anyway, which I thought this job was all about. Therefore, I am considering my options carefully at present.
However, I have been really productive the last few days in Jakobstad: I have made lots of gingerbread cookies and a gingerbread house from scratch, decorated a Christmas tree (a real living tree this time and not as tiny as the one in Vaasa), done some overall cleaning and organising, and on top of that, I have done a good portion of text editing for a law journal. Of course, everything is not ready and set yet, but at least I can tick a few things off my Christmas to-do-list, which feels great. Pictures of the results are coming up, so stay tuned!
Keep calm
Christmas is coming!
---
Så brinner alla fyra ljusen i adventsljusstaken och det är mindre än en vecka kvar till jul. "Gott om tid!" kanske någon tänker. Nix, inte för mig då jag måste vara på jobb i Vasa under kommande vecka, eftersom något ljushuvud vid universitetet tycker att det är en strålande idé att hålla tentamina fyra dagar i rad strax före jul. Administrationen står mig upp i halsen som blaskig julmust (och jag avskyr julmust). Det vore annat om det gällde arbete som är värt mödan, men nu känns det seriöst som rena slöseriet med min tid och energi, då det inte är fråga om forskning för fem öre, vilket jag trodde jobbet gick ut på. Men att få de högsta hönsen i Helsingfors att inse det är lika enkelt som att få regeringen att förstå varför fulljour behövs vid Vasa centralsjukhus. Så jag överväger jag mina alternativ noga för tillfället.
Hur som helst, jag har varit riktigt produktiv de senaste dagarna i Jeppis: jag har bakat dubbelsats pepparkakor och byggt ett pepparkakshus (av delar som jag bakade förra veckoslutet, framförhållning kallas det), klätt en julgran (en äkta gran med en höjd på ca 2,5 m, ingen pyttesak som den i Vasa), fejat och grejat i allmänhet samt därtill hunnit med en hel del textredigering och ombrytning för en juridisk tidskrift. Allt är förstås inte klappat och klart än, men känns i alla fall skönt att kunna bocka av några punkter på listan över göromål innan julen för dörren står. Bilder av resultaten kommer småningom, så håll utkik!
Håll huvudet kallt
och hjärtat varmt i julstöket!