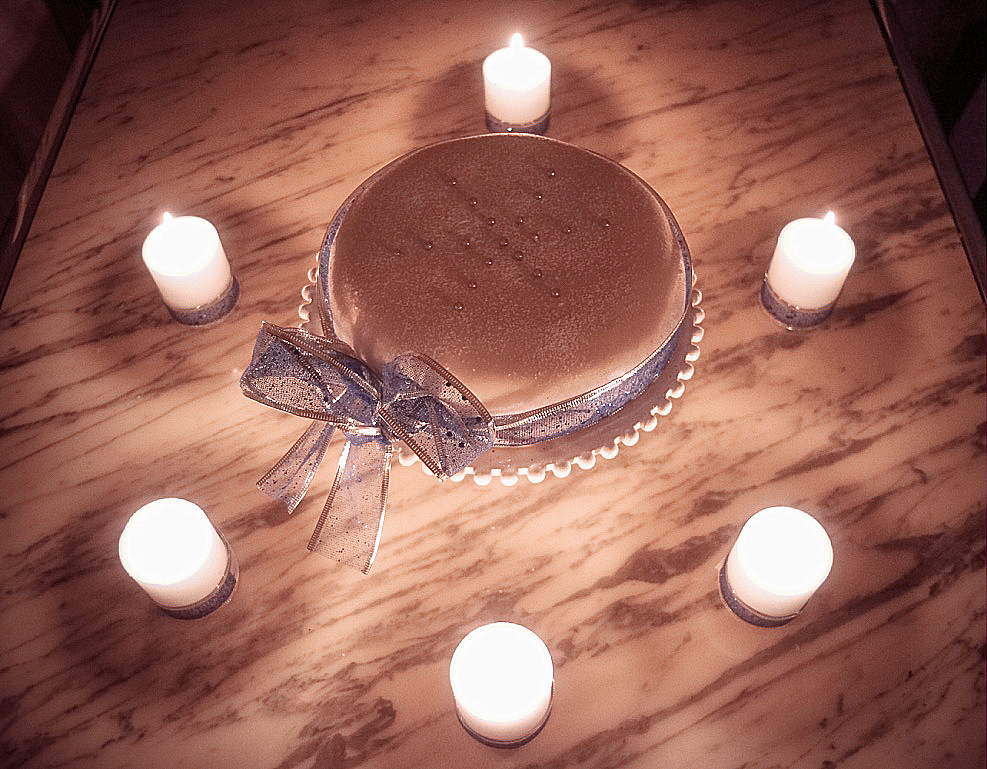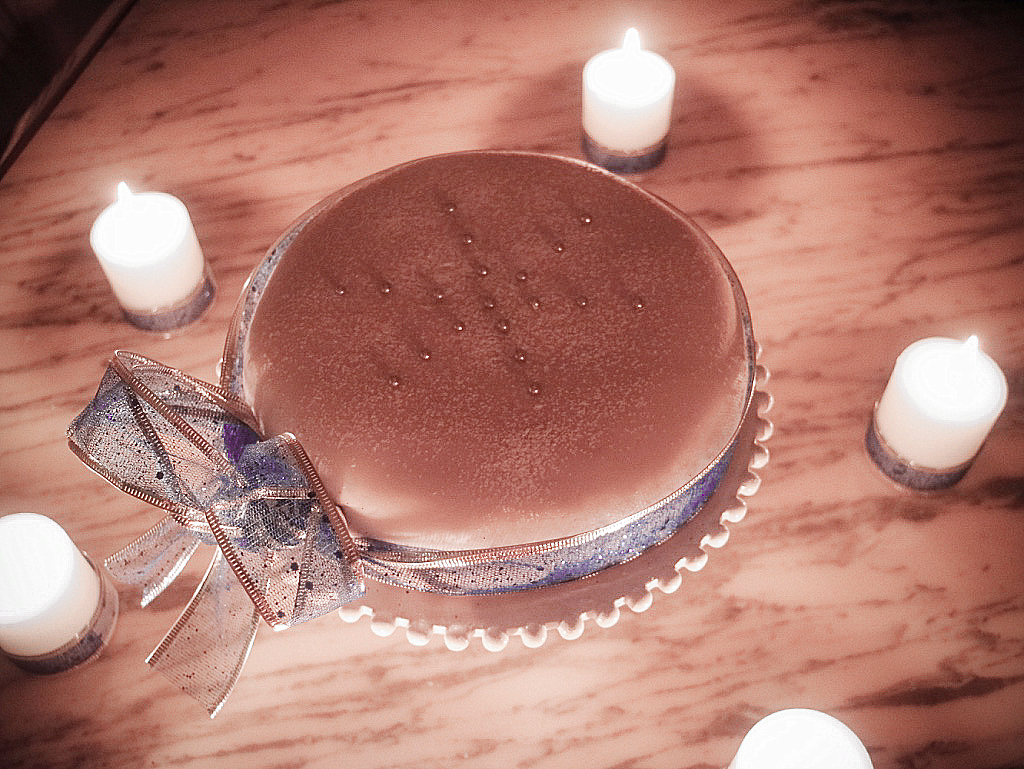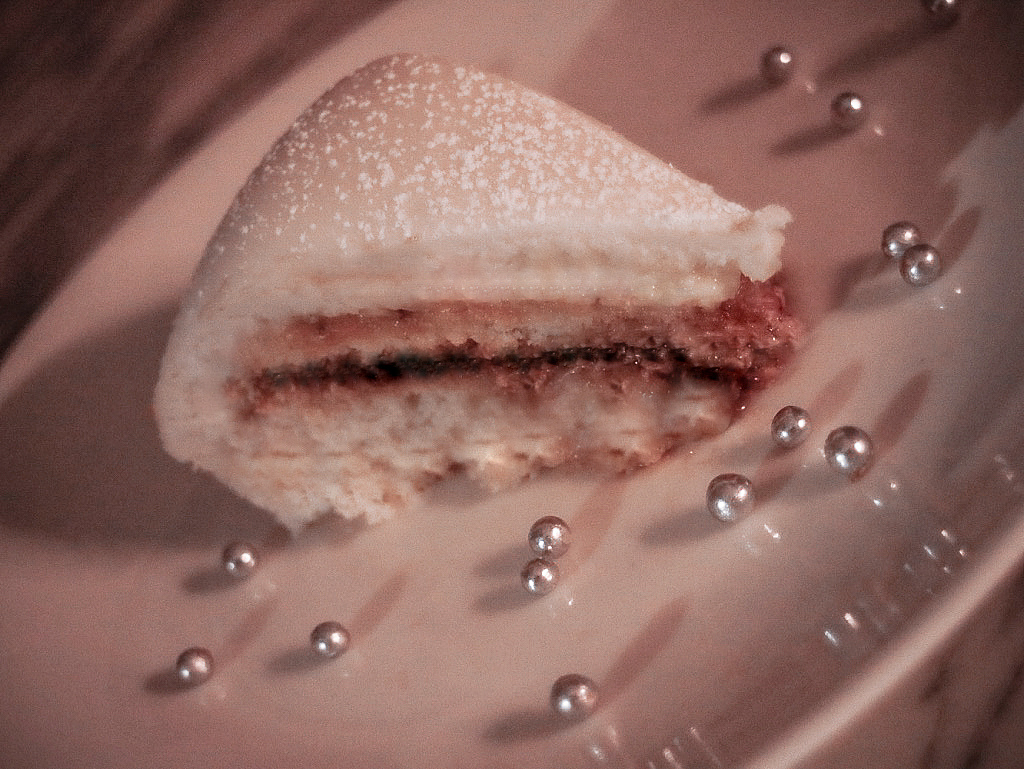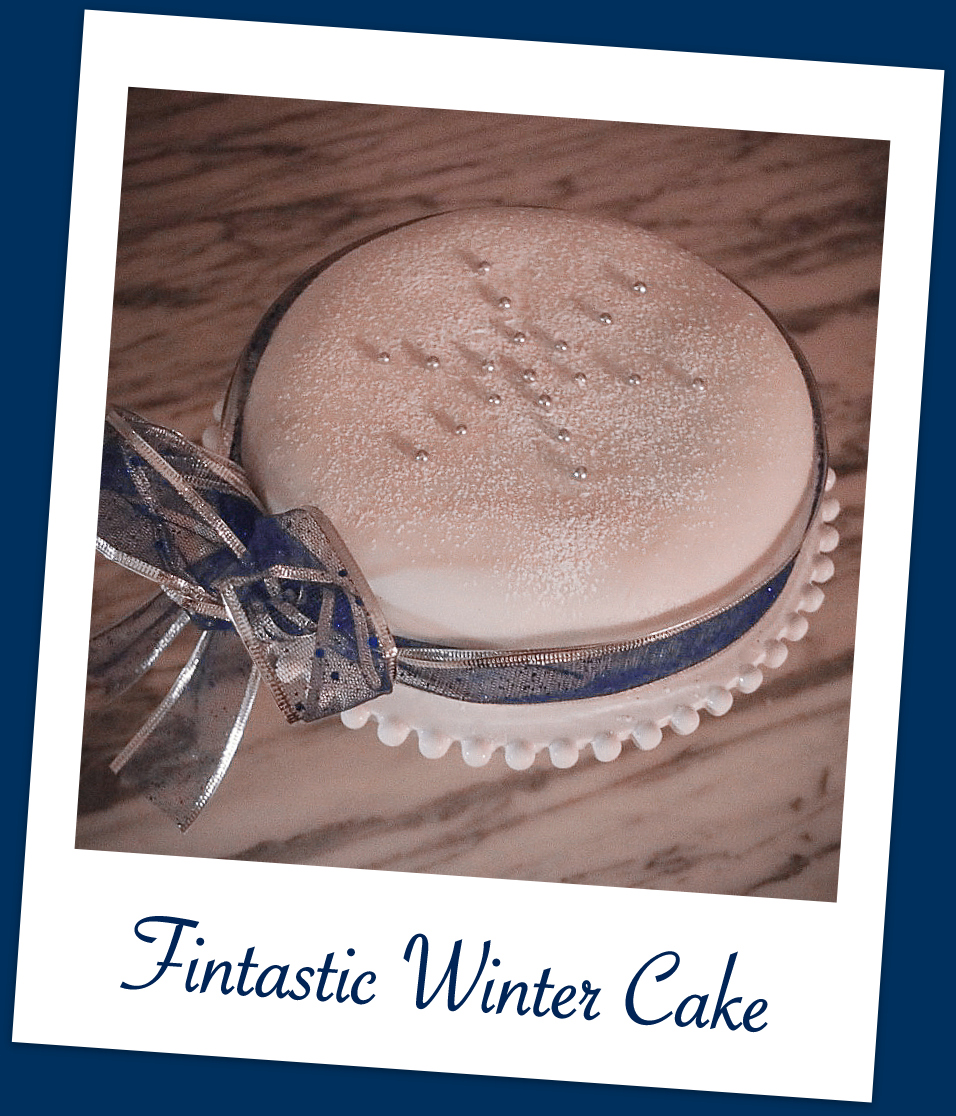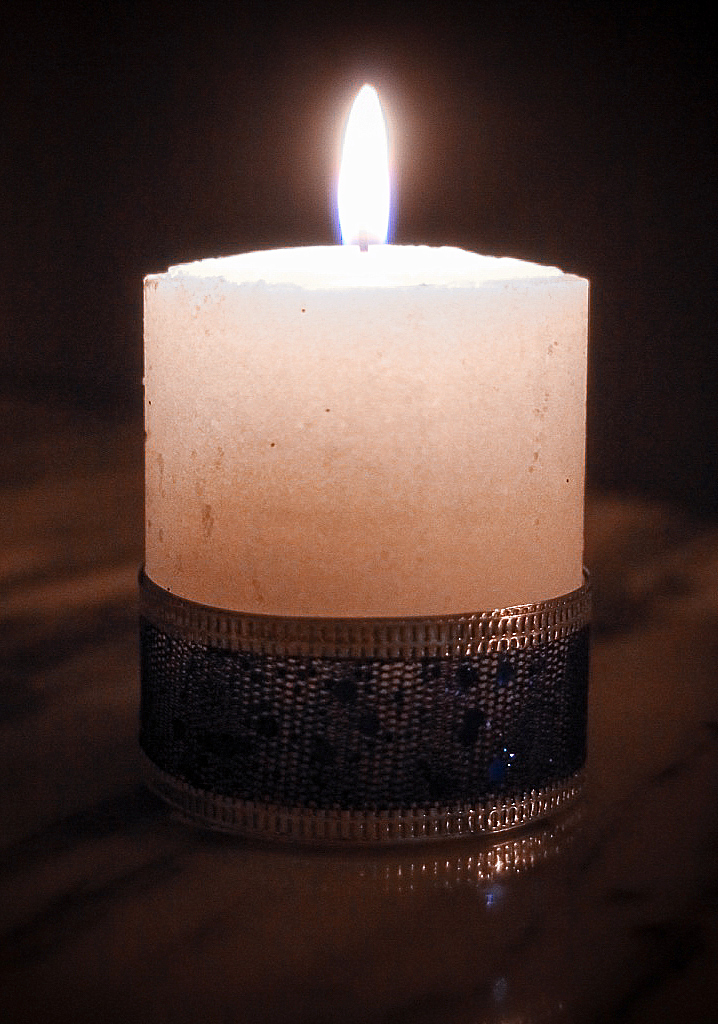 Today we celebrate Finland's Independence Day. Unfortunately, I was not invited to the Castle Ball ("Linnanjuhlat" in Finnish) at the Presidential Palace tonight, but perhaps next year! Hmm, maybe I should contact bribe President Niinistö and offer cake services? Haha, or maybe not, I think I had better stick to home baking.
Anyway, last weekend when I was back home in Jakobstad, I made a wintry Finland-inspired (hence the made-up word "fintastic") cake for the pre-celebration of the Independence Day. A simple cake with a basic sponge cake base, filled with mocha-chocolate cream and cream cheese, covered with homemade sugarpaste. In order to embrace the Finnish spirit, I kept the decoration modest in form of a blue bow and silver pearls in the "snow" made of icing sugar. The chocolate I used was, of course, the traditional Karl Fazer milk chocolate "Fazer Blue"; a perfect combination with coffee, which we drink lots of in Finland (personally I do not, though, only tea for me, but I like desserts with coffee taste). I also added a dash of fine brandy to the filling so as to counterbalance the buttery flavour.
On this particular day, I am not up to any grandiose celebrations of the Independence of Finland. I am just enjoying the extra holiday trying to make the most of it: going for a walk in the cold winter weather and when back inside, I will be pottering about doing this and that.
Have a nice (Independence) day!
---
I dag firar vi Finlands självständighetsdag, hurra för den! Tyvärr damp det inte ner någon inbjudan till slottsbalen i år heller, men bättre lycka nästa år! Månne jag borde kontakta muta president Niinistö och erbjuda mig att baka baka liten kaka till kaffebordet? Haha, kanske det ändå är bäst att jag håller mig till bakning på hemmaplan.
Apropå bakverk, som tjuvstart på självständighetsfirandet svängde jag ihop en enkel tårta när jag tillbringade veckoslutet i Jeppis. Det blev en vintrig Finlandinspirerad skapelse i form av sockerkaksbotten fylld med mocka-chokladkräm och smörkräm samt täckt av hemgjord sockerpasta. För att hålla den "typiskt finländska" anspråkslösa stilen rakt igenom dekorerade jag tårtan med endast ett blått band som jag knöt en rosett på samt silverpärlor i "snön" av florsocker. Chokladen i fyllningen var givetvis klassisk Fazers Blå som passar perfekt ihop med kaffe – finländarnas livselixir (personligen håller jag mig till te, men kaffesmak i desserter gillar jag). Sist men inte minst hällde jag en skvätt av pappas bästa konjak i fyllningen för att balansera smakerna (konjak neutraliserar smör). Alkoholhaltiga drycker är endast bra till två saker om ni frågar mig: aromsättning och desinficering, i övrigt är sprit bara skit.
Just i dag blir det inga grandiosa festligheter för min del, utan jag tänker ta det lugnt och njuta av den extra ledigheten. Det blir på sin höjd en promenad i vinterkylan samt pyssel med ditt och datt hemma i lyan. Helt okej så, för vad är en bal på slottet…
Trevlig självständighetsdag!